---
---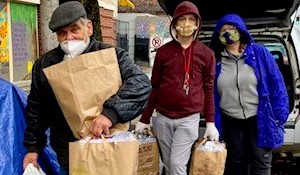 ---
The pandemic of 2020 has devastated the homeless and other at-risk communities worldwide, and with winter coming, many wonder how they'll survive. Striving to help our neighbors at the local level, the BlueVolt Cares team stepped up to encourage employees to open their hearts and help those in need.
Working with local organizations here in Portland, OR, including Metanoia Peace House, Clay Street Table, and Operation Nightwatch, the BlueVolt Cares team identified which essential items to donate, including gently used or new blankets, winter clothing, sanitary products, and plastic cutlery.
The BlueVolt Cares team safely gathered donations throughout November and will continue to do so throughout the season. Recently, our team proudly delivered bags full of items that will surely make the winter a little warmer for those most in need here in Portland.
For more information on how to help these organizations, please visit the following websites: