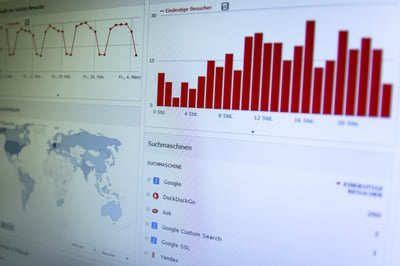 BlueVolt's embedded analytics feature enables users to make strategic, data-driven decisions about channel learning and marketing.

But what if you don't know much about Business Intelligence (BI) and analytics?
Organizing and interpreting data are still newer concepts, which is why BlueVolt offers some guidance and best practices to get you comfortable and confident with data.
---
Getting Started in BI
Check out our blogs that show why you need BI and how you can make the best use of BlueVolt's embedded analytics dashboards:

Ready for a REAL Adventure into BI?
We have created a miniseries of blogs to give you a better foundation in analytics. Discover practical business strategies for building dashboards, ensuring employee buy-in, and guaranteeing the longevity of your BI program.
BlueVolt will release these blogs over the next few months, so keep an eye on your social media feeds and emails. You can also bookmark this page, as we will be linking our blogs below as they are published.
Have Immediate BI Questions?
If you can't wait for the blogs, please speak to your Customer Success Manager (CSM) today. They can answer your data questions and solve your analytics problems.
Curious About Analytics But Not Part of the BlueVolt Family?
We'd be happy to chat about how our embedded analytics solution is the right fit for your channel learning and marketing programs. Reach out to us today by providing your information below.