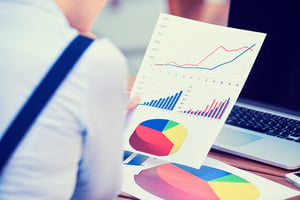 The Problem: Manufacturers want their sales channel partners to be knowledgeable resources, a trusted and credible presence in the market. Distributors want to demonstrate their commitment. But how can you quantify and incentivize those qualities?
The Solution: Add training metrics from your BlueVolt university to your scorecards for suppliers and distributors and use that data as benchmarks for discounts and rebates. Correlate it with sales data for deeper insight into training effectiveness and product market fit.
The Story
Scorecards help channel partners track key metrics that measure engagement and sales success. And they're an easy reference for reviews and setting discounts and rebates.
How do you find this data? It's easily accessible in your BlueVolt reporting, including enrollment and completion data, the amount of $BlueBucks awarded, and assessment scores. Using groups and categories, you can filter by product type, product age, or different promotions for easy analysis.
This scorecard can then be incorporated into your quarterly or annual reviews in a variety of ways: for instance, one cutting tools manufacturer uses a points system to determine discount rates for the following year, and BlueVolt course enrollments earn points.
Buying Groups and Cooperatives recognize training with annual awards to distributor members and supplier partners. The awards highlight course enrollments by distributors and course introductions by suppliers. The result? A thriving ecosystem that encourages learning.
To Start
First, identify the partners you want to target and the actions you want to encourage. Next, structure your BlueVolt university categories and groups so your reporting reflects your priorities. Your Customer Success Manager (CSM) is here to help!
Conclusion
By incorporating your BlueVolt reporting into your scorecard and adding incentives, you can encourage your channel partners to take more product training courses. With distributors that are confident in your product lines, sales increase and relationships grow stronger.
Want to learn more about BlueVolt reporting? Contact your CSM!