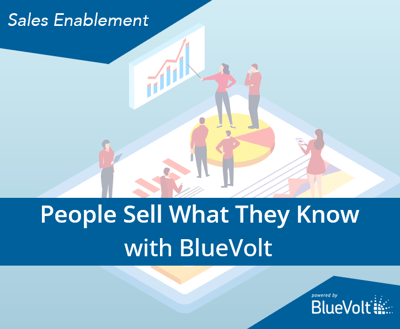 Sales enablement helps your team to sell more effectively and efficiently. Your team gets the resources, knowledge, and support they need to be able to provide clients with strong customer service and close deals more quickly.
So how can BlueVolt help?
The BlueVolt course catalog features direct-from-supplier courses, training your sales representatives on the specific details of each product they're selling.
People who know more sell more, and your customers will be more confident in buying from someone who is knowledgeable and can tell them which product would suit their needs best.
BlueVolt's network of Manufacturers, Suppliers, and Distributors share courses on product, industry, safety, and compliance training to support those who serve the trades. It's your entire line card in one place.
How does it work?
BlueVolt training is online, so it can be accessed anywhere. Your team can take courses at any time, and at a pace that works for them—not only that, but they can come back to review content as often as they need to. There's no need to schedule meetings, video calls, or presentations for everyone who needs the information on the products you sell: everyone can review the content at a time that's convenient for them without interrupting their workflow.
As any college student will tell you, you can't just cram the night before an exam—you have to review the material over time if you want it to truly stick. That's why BlueVolt Knowledge Bumps. With Knowledge Bumps, your learners receive follow-up content reminders, surveys, or quiz questions, spaced out at an interval that you decide, pushing them to recall the information that they've learned from your courses.
This strategy reinforces your team's knowledge from their courses and helps them retain it longer. And it keeps your brand top of mind.
But will it work for me?
BlueVolt's 20-year history shows the power of sales enablement: when your reps have the resources, support, and knowledge they need, they sell confidently and efficiently.
If you're interested in generating more sales, creating a more knowledgeable team, and closing deals more quickly, reach out to BlueVolt today to learn more about how we can help you with your sales enablement program.