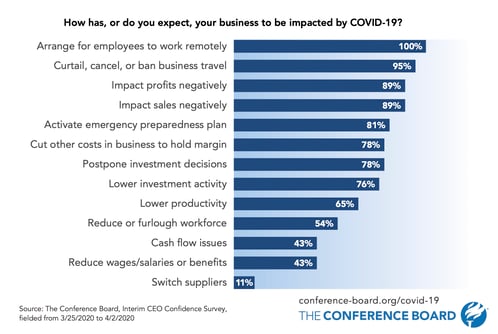 COVID-19 challenges every business.
Governments mandate "sheltering in place" and "social distancing". Travel is increasingly difficult. Business leaders are evaluating and prioritizing their responses every day. This week, The Conference Board published the results of their Interim CEO Confidence survey and topping the list of impacts are "working remotely" and "curtailing business travel". Cost cutting and productivity concerns are in the mix too.
CEOs view virtual work as necessary for survival.
It's challenging, but every challenge brings opportunity. So, what is the "silver lining" to these new CEO concerns?
A new focus on learning culture will result from a stronger incentive to leverage online tools.
This is your chance to empower your teams more than ever with the knowledge required to come out of this pandemic stronger than before. Online training enables continuous learning to move business forward even in a virtual working environment. Everyone will end up stronger.
CEOs know it and BlueVolt is here to help make sure it happens.
Stay healthy and stay safe.
---
---
*Data taken from "The Conference Board Measure of CEO Confidence™ " dated

09 April. 2020 which is (c)2020 The Conference Board. The report is available at https://www.conference-board.org/data/ceoconfidence.cfm