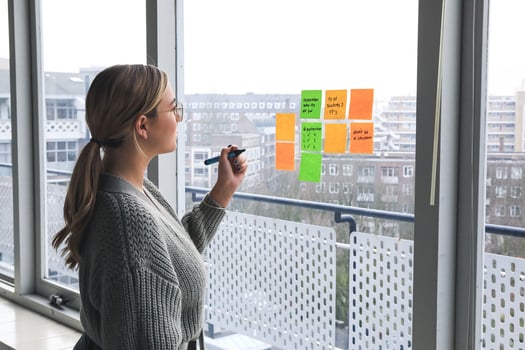 One of the top questions BlueVolt Customer Success Managers hear from new customers is what to include in a product training course.

Most customers ask because they know their training is going out to their entire supply chain — as in people who are NOT in their own company. How are they supposed to train these channel partners without overloading or underexplaining key brand topics?

To offer some best practices, BlueVolt conducted extensive research into our product training LMS platform's learning centers — also known as customer universities. We've transformed that research into the BlueVolt Insights Report, and you can download your complimentary copy by clicking the button at the bottom of this article.

But before we get to the report, let's address the dos and don'ts of product training course creation.
---
Seat Time
We live in a busy world with limited attention spans. Even on a digital platform that goes at your own pace, learners only have so much time for training.


Do make sure to break up your courses into smaller pieces. For example, instead of having ten key points in a presentation that would last an hour, divide that training into ten 6-minute sessions. Doing so lets learners digest and retain the information more effectively.

Don't make courses longer than 19 minutes. Data from the report showed that courses between 1-19 minutes had the highest course completions rates ranging between 70-99%. Courses that went over that 19-minute point experienced a significant drop in course completion rates.


Course Aging
When people look at products, they're often attracted to the newest thing. Sales reps understand this mentality, so they want to keep informed about all the latest product releases of key brands.

Do set up a regular schedule for releasing new content. New product training content gets higher enrollment rates across the BlueVolt platform. Research proves that during the first 180 days, product training courses have an average enrollment rate of 95.21%.

Don't fail to create a product training production schedule. Not only does content older than 180 days get a significantly lower enrollment rate, (an average of 31%), but it also makes your partners question whether your brand can serve the demands of their customers.


Course Relevance
While the BlueVolt network has hundreds of partners, not all are connected directly to each other. Partners connect based on mutual goals and brand relevance. These goals also relate to sales growth.

Do create training courses that align with mutual business goals. For example, if your partner's customers are skilled workers, how-to-style training courses may prep sales reps to have more meaningful customer conversations.

Don't create product training courses in a vacuum. The whole point of the BlueVolt platform is to network with your channel partners because they're the ones selling and moving your products. Working with them and finding out the most relevant way to design training courses is your best strategy.
---
Want to Know More Product Training Trends?
First, check out these BlueVolt Blogs that discuss critical training trends:
Have questions? Request a call and we'll be in touch right away.