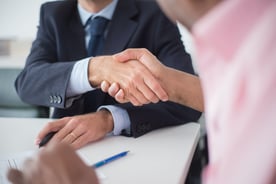 The Question: 
Over the past several years, Mersen has had extremely high completion rates on their BlueVolt courses. What's the secret to their success? 
The Answer: 
By following course length best practices, showcasing relevant and informative content, and leveraging their relationship with distributors, Mersen maintains not only its high course completion rates but also continues to educate and serve the electrical industry as a reputable and trusted global leader in electrical power.  
The Story: 
Mersen, a global expert in electrical specialties and advanced materials for high-tech industries, began in France in 1891 under the name Carbone Lorraine. The company has two main divisions: electrical power and advanced materials. According to Kian Sanjari, the Director of Global MarCom for the electrical power division, the company uses BlueVolt platform for the electrical side of their company. 
Since starting their Mersen Knowledge Center in 2017, Mersen has maintained extremely high completion rates—they're currently sitting at 85.9% so far this year. So how do they do it? 
Sanjari credits two factors: course length and market share. 
"The first reason I can think of is that we try to keep the length of the courses very manageable—seven minutes is already a bit long," Sanjari said, adding that learners can also go at their own pace.  
Sanjari explained that Mersen not only keeps their courses short, but also keeps their visuals light instead of being bogged down by too much content. The claim that this increases course completions is backed by hard evidence: studies have shown that in the BlueVolt network, shorter courses lead to a 15% increase in completions over longer courses. 
The second reason that Sanjari believes Mersen's courses do so well is because of their relationship with their distributors and the neutral relevancy of content. 
"Thanks to a long and successful relationship with our rep and distribution channels in North America, Mersen now holds a leading position in the marketplace," Sanjari explained. "It is thanks to this close collaboration with many of our channel partners that our online courses are strongly promoted within the channel internal environment."
"Our courses closely speak to the need of their employees' training requirements, as well as their external customers, who may be new to the world of electrical protection or would like to learn more about proper electrical safeguarding of personnel and equipment." 
Because of this good standing with their distributors and representatives, people trust the courses that Mersen puts out. But it works the other way as well: Mersen's courses help them maintain their reputation. 
"We're continuing to portray Mersen as the as the experts in the field," Sanjari said, adding that most of their courses aren't even Mersen-specific. "80% of our courses are geared towards a traditional, non-branded training and focus on the important elements of overcurrent and overvoltage protection. Anyone from a seasoned electrician to a new engineer in training can benefit from learning about such topics. We're very well respected because of it—because of being honest and service oriented."
Sanjari added that many of their distributors already use BlueVolt, so it's easy to share their courses.
Conclusion: 
By keeping courses manageable, promoting general education, and maintaining a good relationship with their partners, Mersen has kept course completion rates high and earned respect in their field.  
"Overall, our content just enhances and amplifies the messages that we bring forward to our customers," Sanjari said. "I've been very happy with BlueVolt." 
To learn more about best practices to increase course completion, check out this interview with the BlueVolt Creative Services Team. To connect with BlueVolt to get started with your own online university, contact us *here* today!