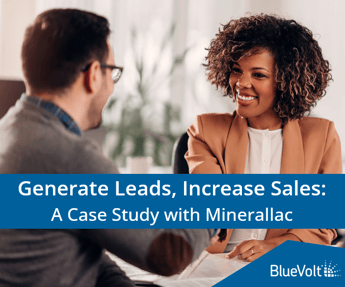 The Challenge:
With a new line to promote, Minerallac needed to get the word out about their product. They were sending email —but those were contacts they already had. How could they convince others to switch to using their product?

The Outcome:
Using the survey at the end of their BlueVolt courses, Minerallac generated new leads to send their catalog—and contact information—to. The end result? Their sales nearly doubled in only one year.

The Story:
Minerallac, an electrical hardware company based in Illinois, has been around for over 125 years. The company employs a little over a hundred people in two locations and provides products to the electrical distributor industry.

Kelsey Liebich, who has been with Minerallac for about 3 years and is currently their Marketing Manager, described the Minerallac Advantage—their goal of a 98% fill rate within 24 hours with no errors.

"We really pride ourselves on outstanding customer service and quality products," Liebich said. Minerallac has seven brands under their umbrella, from nuts and bolts to hangers and straps. Their newest line is BlackClaw, a spring steel line of fasteners and hardware.

Here came the challenge—marketing their new line. Minerallac came out with a full cross-product catalog, complete with a table on the back showcasing Minerallac's part number and their competitors to make transitioning from their competitors as easy as possible.

But how could they get this information out to potential clients? They were using email marketing, but how could they reach people they weren't already in contact with?

That's where BlueVolt comes in. Minerallac has been part of the BlueVolt Sharing Network since 2020 and hosts 4 courses on the platform. Through the network, they share their courses with IMARK Electrical and Affiliated Distributors. At the end of each of their courses Minerallac added a short course survey:
Question one:

What did you think of this course? Was it helpful? (Looking through the survey answers, the result was a resounding overall "YES!").
Question two: Would you like a team member to reach out to you with further information?

Question three:

Would you like us to send you our Minerallac Stainless Steel catalog?

Questions two and three are what Minerallac focuses on: every time someone answers yes to either question, it's a new hot lead. Whenever anyone requests a catalog, they send one out to them with a special touch—a handwritten note. Because Minerallac sells to representatives and not to end users, they add a call to action on each note, telling the learner how to reach out to their rep contact.

When learners follow up on this call to action and reach out to the rep contact, they learn more about BlackClaw and how easy it is for them to convert (super easy—Minerallac boasts a full buyback policy!).

Using this strategy, Minerallac nearly doubled their sales over the course of just one year.

"[BlueVolt] has been a great tool to have," Liebich said. "We're excited to use it even more."