"It's training, but not just training. You can't have training and then say, 'OK, we're done.' There is a whole process to changing a safety culture, and the first step is making sure that our team has the knowledge to perform their job safely."
William Reynolds, National Safety Manager, Rexel USA, Inc.
---
Challenge
Rexel USA, Inc. is a market leader serving the industrial, commercial, and residential electrical contractor markets. In 2012, Roger Westwood (Vice President of Risk Management, Safety & Insurance) recognized the need to streamline the safety message for the many businesses under Rexel USA. The company needed one safety program. The challenge was how to organize all the different pieces and disseminate the information effectively.
As a company, Rexel USA wanted one safety message for all employees across the country that consistently emphasized how everyone's well-being mattered and that their safety was the #1 priority. Westwood took on the task of implementing this initiative to create that message.
The following year, Westwood brought William Reynolds on board as the National Safety Manager for Rexel USA. Together they began strategizing ways to streamline the safety program. At this point they started developing a relationship with the BlueVolt team.
Together, they began analyzing the business challenges at Rexel USA related to safety.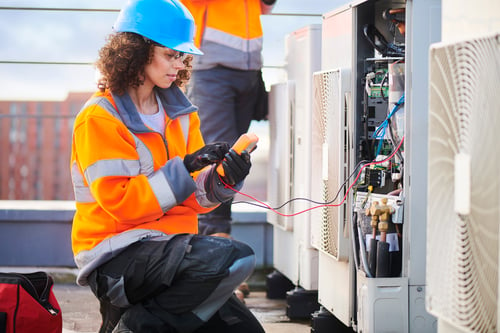 For starters, it wasn't easy locating any prior safety documentation in the organization. Some of the documentation they could find would not prove effective "One PowerPoint document was close to 180 slides," Reynolds commented. "No one was going to read this." Working with BlueVolt gave Rexel USA "the opportunity to start from the ground up."
The second business challenge was that too many employees were getting injured on the job at Rexel USA facilities. It was challenging to hold these people accountable since there was no safety training system in place. However, Westwood and Reynolds recognized that they had to fix this issue so that all employees could work safely, avoid injury, and perform their duties more efficiently.
While safety training is an OSHA requirement, Westwood and Reynolds explained the importance of working safely from the human and business perspectives. For a company like Rexel USA that puts safety first, keeping their people and their customers out of harm's way was the right thing to do and aligned with their business practices. Westwood and Reynolds went on to show how "millions in sales can directly be affected by our Total Recordable Incident Rate (TRIR)."
Beyond a loss in revenue, Westwood and Reynolds indicated that the business case for safety further highlights how "this impacts the bottom line and margin with regard to [insurance] payments for injuries and accidents."
For their final business challenge, Westwood and Reynolds knew that they had to change the safety culture at Rexel USA. Part of that problem included dealing with workers who felt they knew how to be safe, and that if they had never been injured before, they weren't at risk now. Getting them on board with the importance of refresher training and keeping safety top of mind would require content that made learner engagement a primary focus.
Process
As Westwood, Reynolds, and the BlueVolt team got together, one of their first discussions was about strategy. Recognizing the short attention spans of their busy audience proved critical. Westwood and Reynolds wanted to "turn these courses into infotainment."
They also stressed that they wanted to create training courses that would "keep learners involved." It was unacceptable for team members just to hit play and walk away. They wouldn't learn or retain the information that way. Westwood and Reynolds emphasized the importance of incorporating "highly interactive training that would create memorable moments and minimize learners zoning out."
The BlueVolt team agreed that using real videos shot on location with actual employees created a better relationship and a more familiar and engaging learning experience. They also guided Westwood and Reynolds on leveraging BlueVolt course modules to increase learner engagement, including interactive lessons, quizzes, assessments, animated course sections, and videos.
After determining how to film and what elements to include, Westwood and Reynolds decided that they wanted to accomplish several key goals with these interactive eLearning safety training courses.
For Westwood and Reynolds to reduce the frequency of injuries and accidents at Rexel USA facilities, the first goal was to get safety training information to employees so that they would know how to work safely. They had to make sure that the approach they took was more holistic. They were not telling team members how to perform specific tasks separate from how to be safe at work. Any training course created would have to explain how to always work safely during all tasks.
Next, they wanted to improve their TRIR by reducing the number of incidents overall. Finally, even though Reynolds enjoyed training team members in a live setting, he knew that wasn't scalable. "I can't be in front of every employee. I need a [platform] to get out there. Present the information in a way that is memorable."
As the BlueVolt team addressed these goals, Westwood and Reynolds insisted that whatever training they created, "it has to be simple. The safety message is not complicated. We have to provide training that is short, simple, engaging, and memorable."
Despite being a simple message, Westwood and Reynolds worked with the BlueVolt team to ensure that the safety training courses always met and exceeded the highest standards. After all, they created content for teams across the US, and each state had different standards to comply with OSHA and other regulatory organizations. Therefore, Westwood and Reynolds knew that they needed to balance enforcing these high standards while keeping the message memorable. "[Employees] have to know it's for their benefit. At Rexel USA, our #1 priority is safety, so it is important to remember that absolutely nothing we do is worth getting hurt while doing it."
Results
After establishing goals and priorities, Westwood, Reynolds, and the BlueVolt team began building interactive courses to streamline Rexel USA's safety program.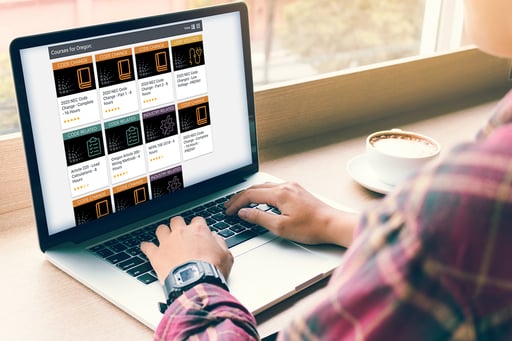 By using the BlueVolt platform to house their courses, it became easy to disseminate information to every team member at all facilities. Furthermore, the platform let Westwood and Reynolds track team member progress with completing required safety courses. Over the past six years, implementing these safety courses in the BlueVolt platform has allowed Rexel USA to meet their goal of reducing TRIR by nearly 50%.
Westwood and Reynolds have also been able to transform their culture into one of safety and accountability. For example, Reynolds shared that "if there is an issue or hiccup, we can say we know you knew about this safety topic/process/protocol" down to the "date, time, and second" the material was viewed by the team member.
Thanks to their partnership with BlueVolt, Rexel USA could now reference and assign training courses to employees. In addition, since Westwood and Reynolds worked in tandem with the BlueVolt team, they could ensure that the language used in training was familiar with company leadership language about safety. Reynolds pointed out that "this helps employees to remember. It's familiar and understandable."
The new safety training program also enabled Westwood and Reynolds to meet their goals related to the business case for safety. They noted that it's a common practice for new customers to include verbiage in their contracts, stating that if Rexel USA's safety grade or level goes below a certain point, the customer will not be able to do business with them further. Westwood and Reynolds explained that having access to safety courses through such an easy-to-use platform enforces safety as a priority. In addition, it allows all team members to work toward staying safe and maintaining strong customer relationships.
Jeff Baker, the CEO of Rexel USA, has stated that "safety is not a word, it's is a way of life!" Westwood and Reynolds commented that "having leadership's support for safety efforts is a tremendous benefit for driving accountability and building a strong safety culture." In addition, they recognized how the company's greatest asset is their people. "There is no better way to look out for your team members than to provide them with a safe work environment free and clear of hazards, as well as providing them with essential safety training and procedures."
Collaborating with BlueVolt and leveraging the platform has given Westwood and Reynolds the tools they needed to share their "Think S.A.F.E." mantra —Stay Alert & Focused Everyday — that has helped them build an enhanced safety culture at Rexel USA. "We intend to keep safety awareness high and injury/illness to a minimum so that we can enjoy a S.A.F.E. work environment and return home safely to our families each and every day," Reynolds said. "I know we've still got a long way to go, but we're very encouraged by our progress."
---
About Rexel USA
Rexel USA, Inc. is a market leader serving the industrial, commercial and residential electrical contractor markets. Through its portfolio of businesses (Rexel, Gexpro, Platt, Rexel Energy Solutions, Capitol Light, Parts Super Center, & Utility Supply Group), the Company offers an integrated platform of products, solutions and services in datacom, energy efficiency, and renewable energy, from lighting upgrades to alternative energy technologies, helping customers maximize their business operations.
Rexel USA, Inc. is the U.S. subsidiary of Rexel SA, a global leader in the professional distribution of products and services for the energy world. Rexel USA, Inc. is a material supplier of electrical products and value-added services to support our customers' business with annual sales of more than $5 billion in the USA, with over 5,500 employees & more than 400 branches throughout the U.S.
About BlueVolt
Founded in 2003 and headquartered in Portland, Oregon, BlueVolt is a pioneer in the eLearning industry. BlueVolt's solutions help a wide range of organizations increase sales, build brand awareness, and enhance employee knowledge. Along with its learning management system and channel learning and readiness (CLR) SaaS platform, the company offers a range of client-focused services, including course and curriculum development, strategic support, business intelligence, and unique channel-training innovations.