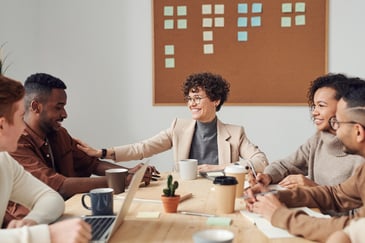 Challenge:
Hahn Systems found value in utilizing Sphere 1 University to train their employees, but they wanted to encourage higher completion rates. How could they increase employee engagement?
Outcome:
Hahn worked with their Sphere 1 vendors to provide incentives for training, which in turn increased completion rates, improved partnerships, and helped meet yearly goals.
The Story:
Hahn Systems, a mid-size distributor in the construction industry, is based out of Indianapolis, IN and has seven total locations. According to Mike Beaupre, the merchandising manager, they have been a part of Sphere 1 since December of 1999.
From the beginning, Mike has seen value in training their employees through Sphere 1 University, powered by BlueVolt.
"I'm on the buying side and... I don't get out on the field much. So sometimes I'm not too familiar with some of the items that I'm even purchasing, so it's a great opportunity on the other side, [being] able to learn more about the products we're either buying or assisting the sales team in selling, as far as customer service goes," Mike said, adding that it's also a great tool for new sales employees to learn about the products.
"Even with the warehouse team, they're usually unpacking and packing and might not know what they're sending in and out of the door. So, it gives them a good opportunity when they see a product. Hey, I watched a video on that, learned something on Sphere 1. It's a great piece of knowledge for those who are putting their hands on it every day and delivering it to customers."
Because of the value he saw, Mike asked if he could create and implement an incentive program to increase employees' engagement and completion rate. They were already using $BlueBucks, the incentive program through BlueVolt, but Mike thought he could customize a program specifically for their team.
In 2016, Mike came up with the idea for a monthly course completion competition and started by offering a small cash prize for a single winner, drawn out of a pool of learners who had completed the required number of courses. After seeing a positive response, he continued to develop the program, eventually hitting on a winning formula: involving vendors.
At the end of each year, Sphere 1 suppliers sign up to sponsor the next year's contests. In return for their sponsorship, Mike requires learners to take their training, increasing Hahn Systems' ability to sell their products. In addition, Hahn Systems works with their Sphere 1 suppliers to put together gateway for growth programs, which can include taking courses from different vendors, to earn different incentives and rebates and help them reach their yearly goals.
Mike believes this program definitely improves the relationship between Hahn Systems and their partners.
"I am reaching out to vendors more and talking to them more because we are incorporating this into our yearly goals and plans, so that definitely helps with the monthly communication with those suppliers that are helping sponsor the contests."
After getting the suppliers involved in 2019, Hahn Systems saw a jump from the previous year's 116 completions to 1108 completions—an almost 1000% increase.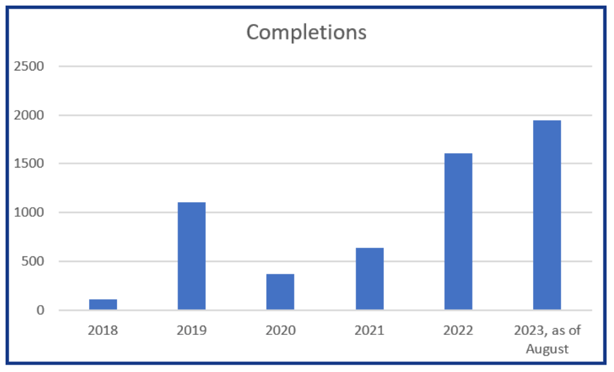 With the pandemic, completions dropped, but they've seen a steady rise since then with the re-implementation and improvement of the contests. In 2022, Hahn Systems hit 1606 completions, almost a thousand more than the previous year. This year, they've already exceeded that—as of August 31st, there were already 1941 completions listed.
"[Employees believe] the prize packages are a great incentive, on top of the $BlueBucks, for them to take the courses. A lot of them were not aware of the education available and believe it is a great tool," Mike said.
Solution:
Because Hahn Systems witnessed the advantages of training, they invested additional resources and experienced a remarkable upsurge. This not only led to a broader understanding within the company, but also fostered stronger engagement with suppliers and partners, ultimately enabling them to meet their annual goals. Employees feel supported and motivated, and partners can see that Hahn Systems is dedicated to learning their products.
"It's been a great tool over the years... I enjoy helping BlueVolt and Sphere 1 spread that knowledge," Mike said. "It's more than the courses... on the website there's just so much information and great tools to help not only the employees individually, but the company as a whole."
To learn more about how you can increase completion rates with your company, check out this article on Configuring your User Interface.