Portland, OR— December 2020 — BlueVolt, an award-winning authority of online learning solutions for sales and channel marketing, proudly just went live with their Winter 2020 Platform Update, including a game-changing Embedded Analytics Suite that will give partners a broader data-driven business strategy.

BlueVolt's now more robust Sharing Network allows platform administrators to quickly identify their BlueVolt Link™ partners. Locating existing partners immediately strengthens network connections and improves the overall knowledge-sharing experience.

Beyond giving partners a powerful platform with an ever-growing network, BlueVolt now offers partners a safer way to sell courses via e-commerce. Content publishers on the platform can monetize their courses, creating a brand-new revenue stream for their organizations.

The following contains a more detailed view of these and other amazing new features from the BlueVolt 2020 Winter Release.


---

Embedded Analytics: Learn more here.
BlueVolt comes with a robust analytics suite. The core offering provides dashboards that give you board-ready insights into the aggregated performance of your training program.
Upgrading to the Executive level offers advanced data modeling capabilities, along with the ability to author and save customized dashboards.


Sharing Center:
Admins can see BlueVolt Link™ partners: If your BlueVolt customer success manager has enabled the option "allow sharing to Link customers," you will now see BlueVolt Link™ next to the names of partners with whom you may want to share your courses. While in the Sharing Wizard and while on the "Courses I'm Sharing – Group by Subscriber" page, you will also see partners with the same designation.

Sell Courses via the BlueVolt Sharing Center: You can earn revenue from the courses you want to sell via the BlueVolt Sharing Center. Admins from other universities can purchase enrollments and provide your training materials on their platforms. Find out more details by following the links below:
Sharing Center Notification Filters: We've added the ability to filter notifications on the Sharing Center, so admins can quickly identify actionable items. You may now filter by Notification Types, or you can choose to show only notifications with Pending/Needs Approval status.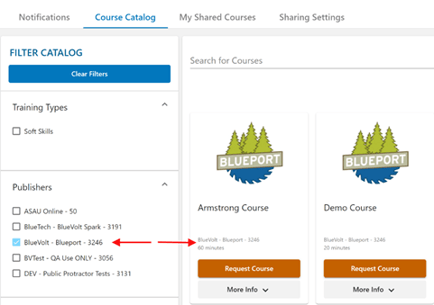 Sharing Center Course Catalog Company Name: Your BlueVolt customer success manager may add a company name to the setup for your university. After adding this information, it will display on the Sharing Center Course Catalog filter panel under the Publisher section as Company Name – University Name – University ID. (For example:"BlueVolt – BluePort – 3246," as seen in the screenshot.)



KnowledgeBumps™: Learn more

here

.
Choose "hours" for a KnowledgeBump™: In addition to days, months, and weeks, admins will now be able to select "hours" as a KnowledgeBump™ delivery time option.
KnowledgeBump™ Notifications: Learners will receive notifications by text, email, or both after a KnowledgeBump™ has been delivered or sent to them.
KnowledgeBump™ Learner Privacy Settings: Admins can now change communication preferences, enabling the learner to choose if they want to receive texts or emails for KnowledgeBump™ delivery.
---
Find all BlueVolt Release notes here, or fill out the form below to schedule a demo today and see these powerful updates in action.