Western Extralite Company: Better Training with Measurable Results
Highlights
Electrical product distributor struggled with a previous LMS.
Employees did not utilize their existing online training system.
Implementing BlueVolt LMS increased participation.
Western Extralite blended in-person and online training.
Trainers track results in real-time.
Customer Profile: A Heritage of Service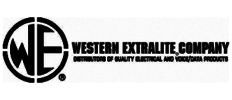 Founded in 1938, Western Extralite stocks over $7 million in inventory including more than 13,000 electrical and data products.
A third-generation, family-run business committed to quality, competence and integrity, they provide products to the electrical industry from 20 service centers throughout the Midwest. Western Extralite employees must possess critical skills, experience, and training. Their customers depend on representatives that quickly provide product selection guidance.
Challenge: Better Training with Measurable Results
Western Extralite values training as the best way to distribute product knowledge. However, their previous solution offered few courses and was difficult to navigate. "To be successful, we need to provide consistent training content to all of our people," said training manager Julie Biron.
Employees were frustrated that they would have to restart a course at the beginning if they did not complete it in one sitting, making it difficult to fit training into their work day. Western Extralite wanted to use in-person as well as online training, but needed to be able to track course completion and report on the progress for their nearly 300 employees.
Solution: Central Access to Training
Western Extralite implemented a BlueVolt university. Now representatives learn at their own pace and convenience. A BlueVolt LMS online university effectively works in concert with in-person or classroom-based training.
Western Extralite trainers attended the three day BlueVolt eLearning Conference and learned how to create courses on their own, and Western Extralite employees using the university become members of the BlueVolt ecosystem and access additional courses created by manufacturers. "Instead of warehouse employees simply picking out the product, scanning it and not knowing anything about what they held in their hand, they can learn about them on the LMS," says Biron. "If they know about the products they work with, the customer gets better service."
Results: Motivated, Customer Focused Employees
In less than a year, Western Extralite filled their university with hundreds of courses. Their employees access even more courses through the AD Education Center powered by BlueVolt. With the implementation in-house of the easy-to-use BlueVolt LMS, Western Extralite employee participation in training increased dramatically. Western Extralite product, service, and inventory management training courses are all available in a central location.
"BlueVolt LMS prepares our people to engage customers in the most positive way possible."
-Tom Isenberg, third-generation President, Western Extralite