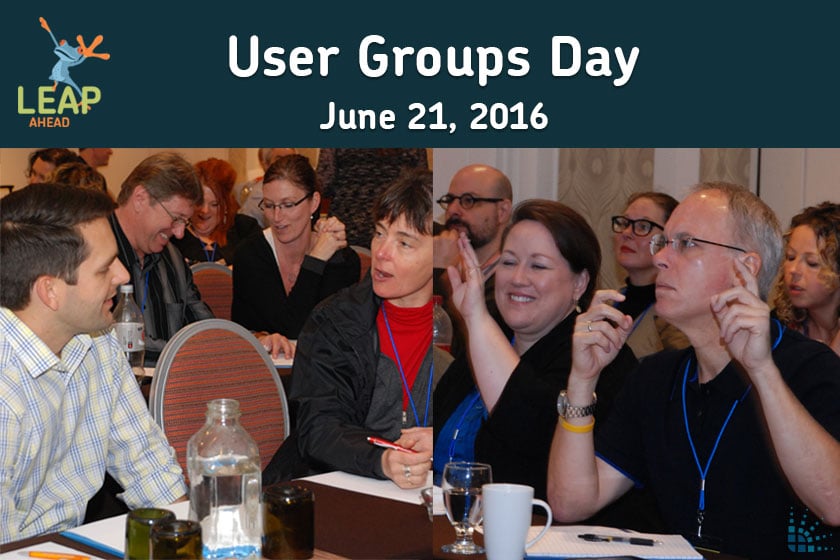 Next month we'll be hosting our 5th annual LEAP Ahead Conference, beginning with a User Groups Day on June 21 for our current customers. If you are an Admin currently using the BlueVolt system for your training, you won't want to miss this hands-on day!
Here's why you'll want to be there, in the words of Product Manager Kim Oates:
A Discussion Focused on You
The discussion on User Groups Day is driven by YOU, the Admin, and centers on what you need to know and want to learn about. It is an 8-hour day session with break-out discussion groups where the top-voted discussions drive the session tracks.
Access to Experts
You get the opportunity to learn not only from BlueVolt, but from other University Administrators as well. You are in a room with people who were in the same situation you were once - and people who have grown beyond that and can assist you. The day is lead by BlueVolt employees (including our Product Manager, Customer Success Manager, National Account Manager, and UX Designer). And it is the ONLY event we have during the entire year where you get full access to all of these experts at once!
Technical Troubleshooting
Need hands-on help? That's what we're here for. Need some extra training in a certain aspect of the LMS? Our experts will get you up to speed quickly.
Jumpstart Your Own University - or Take It to the Next Level
This day helps jumpstart setting up your University (if you are a new Admin), and is also an excellent opportunity to take it to another level if you are an experienced Admin. You also are able to explore other areas of the platform that you haven't yet utilized!
Sneak Peek of New Features
Here, you'll also get a first look at the brand-new UX design that BlueVolt will be rolling out soon, and have the opportunity to share feedback. You'll be in the know ahead of everyone else and have the opportunity to incorporate new rollouts on the product roadmap into your implementation.
Shared Learning with Other Admins
Past attendees to User Groups Day say they learned so much from other experienced Admins as to why they approached their implementation the way they did. It allows a deeper exploration into exact use cases, best practices, and pitfalls to avoid.
User Groups Day is a shared experience with the input of multiple BlueVolt employees and other Admins. This results in extremely valuable sessions that helps develop a solution that's just right for you!
So what are you waiting for? If you're on the BlueVolt platform already, learn how to use it to its fullest:
Register Now for LEAP User Groups Day
Hope to see you there!