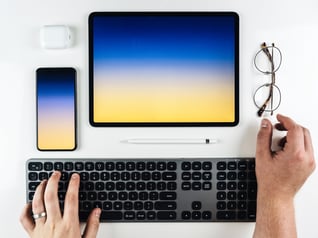 With spring around the corner, it's a great opportunity to consider organizing your digital life.

This practice can reduce the risk of cyber-criminals accessing old data and stealing important information.

It can also help your devices and services perform faster. Here are some quick tips to get your digital life in order and establish new organizational habits.
---
Review Your Accounts
Audit all your accounts and delete or deactivate any that are no longer in use.
Remove information in any of your accounts that are no longer needed, including saved credit cards or old documents in cloud storage.
Lockdown Your Logins

Most software, like the BlueVolt CLR/LMS, contains multi-factor authentication (MFA); remember to turn it on.
Use a unique password for each account. Never reuse passwords.
ALWAYS use strong passcodes or passwords.
For added protection, use fingerprint or facial recognition where possible to log into all your devices.
Update Devices

Reduce the risk of malware and infections by updating the apps and operating systems on all internet-based devices, including PCs, smartphones, tablets, home WIFI routers, smart TVs, and other internet-connected devices.
Delete unused apps.
Tune-up Web Browsers
Check browser settings.
Clear out old data, such as stored passwords and old autofill information.
Ensure your browser is NOT set to store passwords, and instead, use a trusted password manager program that will store and encrypt your login credentials.
Refresh Your Online Presence
Review and update your online profiles on social media sites; set them at your comfort level for sharing.
Actively manage your location services, Bluetooth, microphone, and camera to ensure that apps use them appropriately.
Delete old posts and photos.
Review friends on social networks and contacts on phones and other devices.