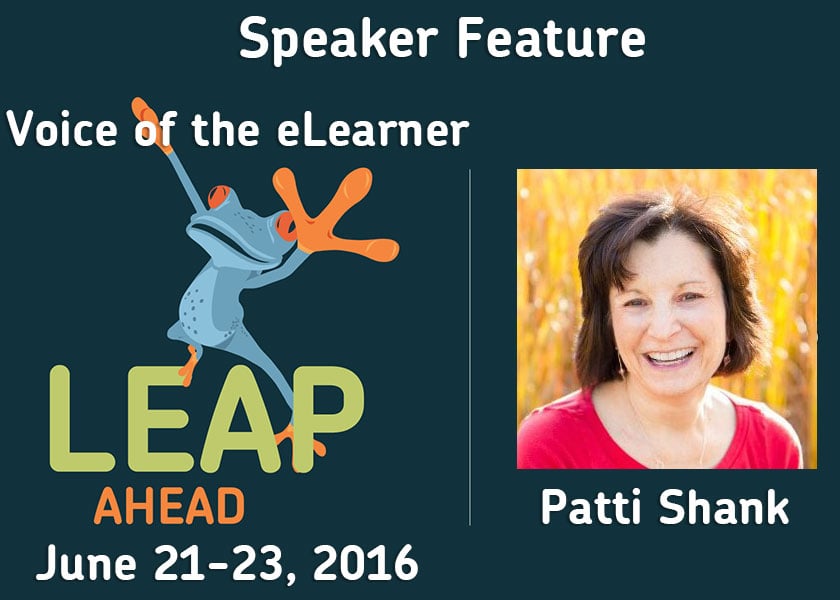 In the coming weeks as we approach our 2016 LEAP Ahead Conference, we're going to be featuring exclusive interviews with some of our eLearning and Instructional Design Experts who will be presenting at the conference.
Interview with Patti Shank
Patti Shank, PhD, CPT is the President of an internationally-recognized consulting firm that provides learning and performance consulting. She is the editor of The Online Learning Idea Book, co-editor of The E-Learning Handbook, co-author of Essential Articulate Studio '09, and author of Be the Best Boss of You. Patti was the research director for The eLearning Guild, an award-winning contributing editor for Learning Solutions Magazine, and her articles are found in the ATD Science of Learning blog. Her research on new online learners won an EDMEDIA (2002) best research paper award.
You have an extensive background in interaction design, tools and technologies for interaction, the pragmatics of real world instructional design, and instructional authoring. Were you always interested in these topics?
I have always been interested in what impacts how we learn and what gets in the way. I have a background in performance and analytics so I also like to make sure we're not wasting resources, including human.
You're very active on Twitter. How do you feel about the role social media has played in the development of online learning groups and communities?
Research tells us that informal and social learning provides numerous benefits to learning. One of the biggest is that we often learn more in social setting. There are many reasons. One is that more knowledgeable others can help us stretch. Another is that we can gain multiple points of view.
Twitter, along with other social tools allow our learning communities to wider, even global. There was a time in the not-too-distant past when I didn't have a global personal learning network PLN). Because of Twitter, I talk to and share resources with colleagues in Europe, South America, and elsewhere. This is no longer unusual.
And online social tools are influencing how we come together face-to-face. It often doesn't feel like enough to meet online. We want to extend these relationships. That's why face-to-face conferences haven't gone away or gone completely online. Our communities have grown and we want to be together IRL (in real life).
Yes, I do try to escape busywork sometimes and hide out on Twitter. Wish it wasn't that obvious! :-)
You've written numerous books and research papers. What has been some positive feedback you've received regarding your work?
My favorite feedback lately has been about helping people understand the science of learning. Someone told me my recent article on growing expertise in the ATD Science of Learning blog really helped him see that we aren't developers of content so much as developers of people, whose goal should be to improve their level of expertise.
Every field counts on science for optimal outcomes. For example, if carpenters didn't make use of knowledge related to math, physics, geometry, and such, buildings would fall down. A carpenter may not know all of the math, physics, geometry, and other sciences that go into his or her work, but he or she must know the practices that encompass those sciences. If learning practitioners don't use the right practices, organizations don't get the best outcomes. It's that simple.
What is one prevalent myth that is perpetuated about online learning?
Here's my favorite: If it's online, everything the learner does must be online. I call this the "plugged-into-the-wall fallacy." Ridiculous! There's no reason at all that the learner cannot go into the real world to do things. Such as: Ask people questions. Practice things offline. Build something. Try something out. The possibilities are endless.
Have you noticed any recent trends in online learning?
Blended Learning. (And I don't mean just blending online and face-to-face.) How about blending informal and asynchronous. Q&A with experts and user developed content. And on and on... The reason is obvious. Do what works best using possible resources.
What do you feel is the future of eLearning?
Short-term future: We'll stop calling it "eLearning."
Long-term? Depends on what the future brings. I won't even pretend I know what that is but I sure am excited to find out and work with it. I hope it includes a transporter beam. Flying is becoming insufferable.
What are you most looking forward to at the LEAP Ahead Conference this year?
The thing I am MOST looking forward to is the chance to share things we are both interested in. At larger events, it's been very difficult to do this because EVERYTHING tends to be overcrowded.
Thanks for your answers, Patti - we can't wait to hear your presentation at the conference!
Patti will be presenting a session called "Make Your Instruction (More) Learnable" on Day 2 (June 23) of the Conference.
Register to Hear Patti Shank's Presentation (and get $100 Off)