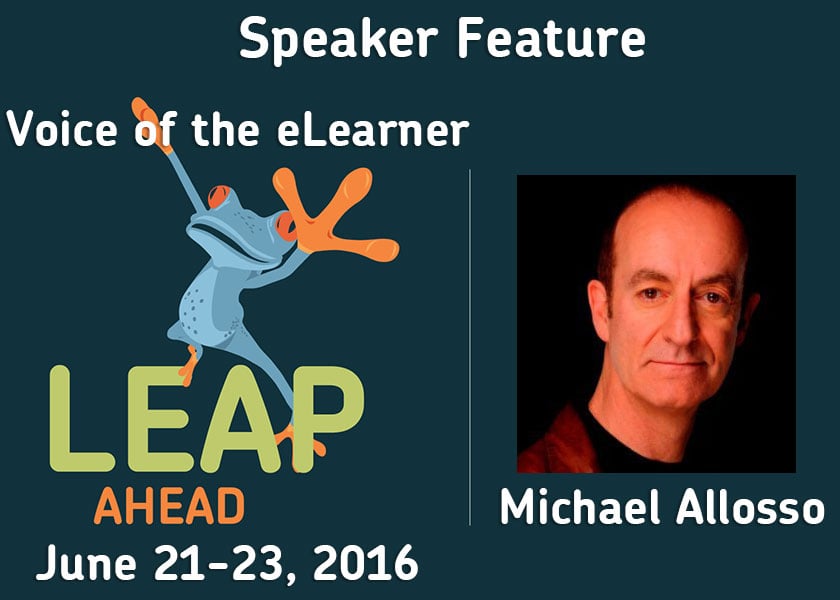 LEAP Ahead Keynote Speaker Michael Allosso is a renowned public speaker, coach, and consultant. He has given his "You On Your Best Day" presentation hundreds of times around the world to Fortune 500 companies, CEO's, thought leaders, and business people looking to gain an edge and take their communication abilities to the next level. He is scheduled to speak at BlueVolt's LEAP Ahead Conference next week, and we caught up with him to get his input on how communication is essential to the eLearning industry.
When it comes to eLearning, he notes that it is essential that the trainers develop a rapport with the learners. Learning becomes intuitive and is absorbed better when communication is heightened. By "training the trainers" on their soft skills, namely their dynamic creativity, objectives, micro-messaging, verbal and non-verbal cues, presentation abilities, dynamism, tactical variety, stories, visuals, and how to end strongly, he is able to coach them into a better state to help their audience be more receptive to their message.
As a "master of the human mind, the human soul, and the human gut," he notes that shared empathy is crucial to communication. Anticipating potential barriers to shared understanding will also help in the process of educating business owners to the possibilities of eLearning at their organizations. It's a new concept, and building that rapport first through shared empathy can help overcome potential barriers and stumbling blocks along the way.
His presentation is ultimately about leadership (amongst sales reps, trainers, business owners, and everyone involved in an organization) and the leaders' responsibility to serve others. The ultimate goal is for everyone to come out of "You On Your Best Day" with a minimum of two ways to upgrade their communication abilities immediately.
Michael Allosso will be presenting the keynote to the LEAP Ahead Conference on Day 1 (June 22): "You on Your Best Day." Don't miss this valuable presentation that offers an entertaining perspective on dynamic and effective leadership.
Check him out online here: