LEAP Ahead 2019 is coming soon! On June 18th and 19th we present BlueVolt's 8th annual conference.The two-day event features four truly inspiring speakers and a series of workshops to help you maximize the ROI of your learning program.
As mentioned previously, LEAP Ahead 2019 will focus on neuroscience and the power of storytelling - From Science to Business. And, what better way to begin the discussion than with a deep dive into the science. We education specialists talk regularly about the science of learning but this time we'll explore the brain from a different perspective. Our first speaker will discuss brain science from the standpoint of persuasion.
LEAP 2019 - Day 1 will begin with executive, author, and neuromarketing pioneer, Patrick Renvoise. Patrick will dive deeply into the power of neuroscience to guide your business to persuasive messaging. He is the co-founder of the neuromarketing firm SalesBrain and is an expert in complex sales. Through his years of experience in Business Development he has interacted with many of the world's scientific leaders and, through them, became fascinated with the human brain. After several years of study, Patrick began developing a scientific model to explain how humans use their brain to make buying decisions. Learn more about Patrick and his NeuroMAP™ model on the LEAP 2019 Website.
Patrick is co-author of 2 books. Most recently, he and Dr. Christophe Morin published "The Persuasion Code" through John Wiley & Sons. This book is the basis for his LEAP Ahead 2019 keynote talk. It's a great book and the talk is guaranteed to be enlightening.
Learning from Patrick is just one of the benefits attending LEAP Ahead 2019. You will also get to hear from other speakers, to participate in workshops, to enjoy a lively panel discussion, and to take advantage of the opportunity to learn from and interact with your partners at BlueVolt and an array of colleagues, LEAP Ahead 2019 will be a not-to-miss event. The full agenda and much more are on our LEAP Ahead website.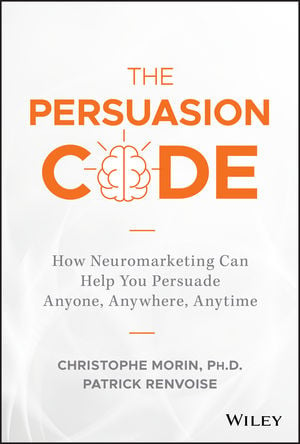 We're excited to have engaged speakers like Patrick and, as we lead up to the conference, we'll share much more.