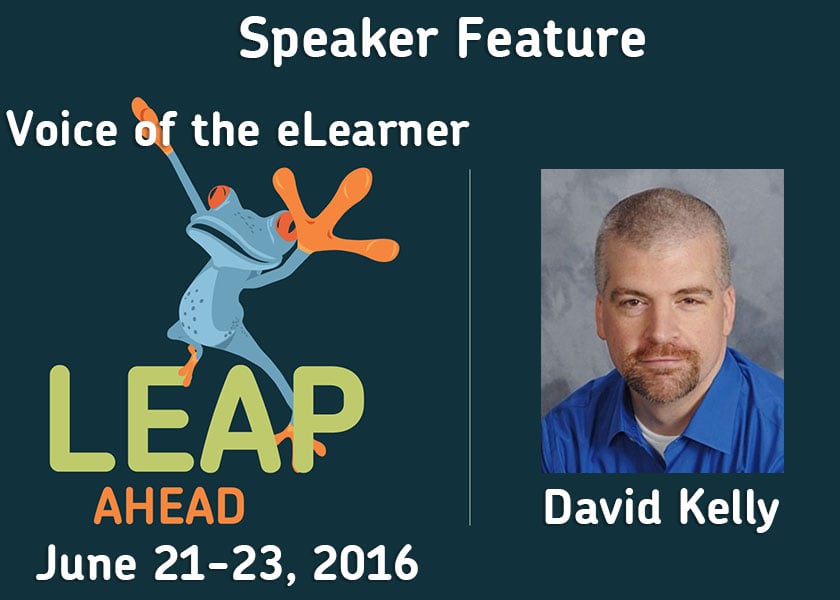 The 2016 LEAP Ahead Conference is now just over a month away, so we're wrapping up our exclusive interviews with some of our eLearning and Instructional Design experts who will be presenting at the conference. Last week was an interview with LEAP keynote speaker Connie Malamed, and this week we have:
Interview with David Kelly
David Kelly is the Senior Vice President and Executive Director of The eLearning Guild. David has been a learning and performance consultant and training director for over 15 years. He is a leading voice exploring how technology can be used to enhance training, education, learning, and organizational performance. David is an active member of the learning community, and can frequently be found speaking at industry events. He has previously contributed to organizations including ATD, eLearn Magazine, LINGOs, and more. David is also known for his curation efforts, especially related to conferences and events for learning and performance professionals. He can be found online on his website, or on Twitter @LnDDave.
You have an extensive background in progressive education and learning support in the workplace. Were you always interested in these topics?
Like many in our field, I found myself in a training role largely by accident. My career started in banking, and after a few years one of the senior leaders came to me and said "You do your job exceptionally well - go show others how to do it.". However, once I fell into learning and development I quickly fell in love with the work. There was a natural connection between my new-found love of training and my lifelong interest in technology. I've spent the last 15 years or so exploring this intersection, and how technology can enhance learning and performance in organizations.
You're very active on Twitter. How do you feel about the role social media has played in the development of online learning groups and communities?
Social media is, in my opinion, the greatest tool for learning that exists today. Now I should clarify that statement a bit. My use of the phrase "tool for learning" is very intentional. Most people would probably read a sentence like "Social media is, in my opinion, the greatest learning technology that exists today" as the same statement. I don't. The context in which the phrase "learning technology" is used more commonly refers to training or educational technology. The differences between the two phrases is not positive or negative, but understanding the difference is critical. I've learned more via social media interactions than via any other source in recent years, yet very little of that activity would fall under the heading of a formal training or learning program.
That brings me to the core of your question. Social media is a critical component for online learning groups and communities, but it's an infrastructural component. The ultimate success of an online group or community isn't based on the social media platform it's built upon; it's based on how that platform is used to allow people to share and connect. Most groups and communities that fail do not do so because of technology challenges; they fail because of challenges of culture.
You've written numerous articles, been interviewed in podcasts, and presented as a speaker at many events and conferences. What has been some positive feedback you've received regarding your work?
There's a phrase that I use quite often in the closing of the talks and workshops I lead at events: "What we learn during our time together is important, but what really matters is what we do with what we've learned when we leave this room." It's feedback that touches on this important point that is most meaningful to me. When someone shares a story with me exploring how he or she applied something they learned from one of my talks or articles and to solve a problem, it's incredibly meaningful to me. That's what ultimately matters - not what we know, but what we do.
What is one prevalent myth that is perpetuated about online learning?
There are a great number of myths out there, and many of them are based in sciences that others can speak to much more effectively than I can. In fact, I think that's one of the primary reasons many myths perpetuate - people sharing the "expertise" about things they haven't fully vetted or understood themselves.
There is one myth that I try to focus much of my work on, and it's a myth that not enough people really acknowledge. I refer to it as the myth of right and wrong. There are lots of people in our industry that talk about how things should be. There's a growing narrative that judges what is as wrong, and paints a picture of what should be as right. Often this narrative is formed under the popular phrase "best practices".
I have a number of concerns with this narrative, but chief among them is the narrative completely ignores the importance of context. There is now single right way to apply online learning. It's one of the reasons I've tried to remove the phrase "best practice" from my vernacular. A practice that works best for one organization may reslt in a complete failure in another. I prefer the phrase "appropriate practices", which I would describe as the appropriate application of proven practices in context.
Have you noticed any recent trends in online learning?
I consider this to be one of the most exciting times to be in our field, mostly because there are a number of technology trends that are shaping the future of how we interact with the digital world. Again, my phrasing here is intentional, because I believe the future of online learning will be shaped largely by the future digital connectedness, and those changes are taking place today on the consumer market. If you want to understand how technology is going to change the ways we learn tomorrow, you have to watch how technology is changing the ways we live today.
With that context in mind, the technology trends that most excite me about the future of online learning are mobile, virtual reality, and data analytics.
My selection of mobile might surprise some people because it's not a trending technology; it's mainstream. I include mobile not so much because the technology itself is emerging, but because our use of of these devices' unique affordances is just starting to emerge, and that's going to enable us to do things we've never done before.
Virtual reality is a technology that is probably not going to impact the average L&D group in the near term, but we are very close to seeing it normalized as a medium for content. When that happens, the applications for learning will be huge.
My last choice of data analytics could be the most important. Online learning has forever existed in a world where "data" was defined by metrics like course completions, test scores, and time in course. New technologies are enabling us to track much more meaningful data sets, in ways that can be analyzed so that we better understand what workers need, and how we can best support those needs.
You are presenting a session at the upcoming LEAP Ahead Conference 2016. What are you most looking forward to for this event?
I always love the opportunity to share discussions with peers from our industry. Rubbing elbows and sharing stories with peers is what keeps me energized and passionate about the work that we do. I'm looking forward not only to the great sessions highlighted on the program, but also to the informal hallway conversations that happen throughout the event.
Thanks for your answers, David! David Kelly will be presenting a session on "A Look Ahead: The Now and the Next of Learning and Technology"on Day 2 (June 23) of the LEAP Ahead Conference.
Check him out online here: