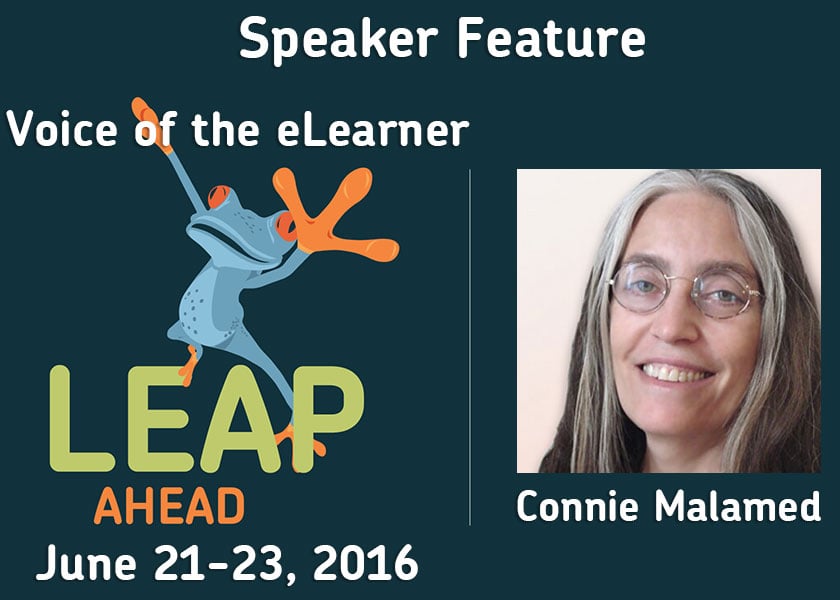 Connie Malamed is a consultant, author, and professional speaker in the fields of online learning and visual communication. She has helped nonprofit, government, and corporate clients develop strategies for workplace learning for more than 20 years. Connie is the author two books: Visual Design Solutions: Principles and Creative Inspiration for Learning Professionals and Visual Language for Designers: Principles for Creating Graphics that People Understand. She publishes The eLearning Coach website and podcast. Connie has degrees in Instructional Design and Art Education.
You have a Masters Degree in Instructional Design & Technology, and many years' experience teaching about online learning and instructional design. Were you always interested in this topic?
As an adult, I have always been interested in education because it seems like one of the most significant ways to benefit society and the individual. Personally, I've always enjoyed academics. Also, my brother was mentally handicapped and that kind of cemented my interest in how people learn and in how the brain works. I'm grateful that I can combine my passion for design and my fascination with cognitive psychology in a way that can help others.
Instructional Design seems to be a synergy of graphic design, technical sensibilities, detailed precision, and a grasping of the neurological and psychological learners absorb information. Could you describe the necessary elements to good Instructional Design?
You're right that instructional design is a synergy of many competencies and fields of knowledge. I think effective instructional design is a moving target that evolves and adapts as our culture, technology and workplace changes. In general, instructional design for the workplace is effective if it improves performance, empowers learners to develop their own skills and provides access to necessary information.
You've written 2 books and created an app related to instructional design. What has been some positive feedback you've received from users or readers?
Both of my books cover different aspects of visual design. I've heard from readers that they were looking for a way to improve their skills and that my books raised their awareness of design around them and helped them get better at it. People also tell me that my app, Instructional Design Guru, has helped them at work and in graduate school. It's even be used to settle arguments! I also have a free course explaining a career in instructional design at http://breakingintoid.com. I get a lot of feedback from course participants who tell me they decided to make this their career because of the course. That's very fulfilling.
How do you find the experts you interview for your podcast?
On "The eLearning Coach" podcast, I tend to interview authors because I know that to write a book, you must really delve into the subject, do research, and spend a lot of time thinking about it.
I don't have a special strategy for finding interviewees. I just come across interesting people in my reading, social media and through personal relationships. I particularly like to interview people outside of our industry, like in user experience, writing, and visual design, to expand the audience's (and my own) awareness.
What is one prevalent myth that is perpetuated about online learning?
I think the biggest and most dangerous myth that is perpetuated about training in general is that if you teach something one time, it will be retained forever. Our brains just don't work that way. People need many interventions, varied interventions, social interaction and real-world experience for behavior change to occur.
Have you noticed any recent trends in online learning or instructional design?
I see a lot of positive trends happening and I think the industry is moving in the right direction. Practitioners are beginning to take research findings into account, to realize that training is not the solution to every problem, and that one learning intervention is not sufficient. This translates into diverse approaches and strategies, such as performance support, blended learning, micro-learning, social learning, gamification, context-sensitive support (like mobile) and others.
You are delivering the keynote for the upcoming LEAP Ahead Conference 2016. What are you most looking forward to for this event?
I've heard a lot of great things about the LEAP Ahead Conference so I'm looking forward to meeting everyone and experiencing it all. As far as doing the keynote, I'll do my best to be inspiring and informative. I have great faith in human potential.
Thanks for your answers, Connie! Connie Malamed will be presenting the keynote session for the LEAP Ahead Conference on Day 2 (June 23) on "Emerging Roles of the 21st Century Learning Professional" and a later session on "Crash Course in Visual Design."
Check her out online here: