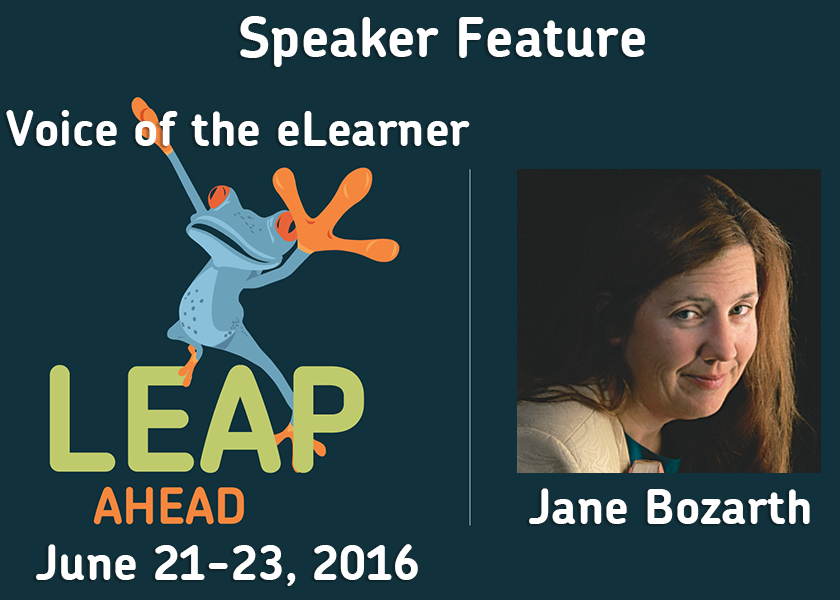 In the coming weeks as we approach our 2016 LEAP Ahead Conference, we're going to be featuring exclusive interviews with some of our eLearning and Instructional Design experts who will be presenting at the conference. Last week was an interview with Patti Shank, and this week we have:
Interview with Dr. Jane Bozarth
Dr. Jane Bozarth is the eLearning Coordinator for the North Carolina, USA, Office of State Personnel. She is the author of eLearning Solutions on a Shoestring, Better than Bullet Points: Creating Engaging eLearning with PowerPoint, From Analysis to Evaluation: Tips, Tools, and Techniques for Trainers, and Social Media for Trainers. She is a popular conference speaker and is frequently found at both live and online international events. She also serves as one of the moderators of the popular weekly Twitter event #lrnchat, Thursdays at 8:30 PM ET. She describes herself on Twitter profile as a rabid, feral, and tribal learner, World's Oldest Millenial, Positive Deviant, and Constructive Heretic. Jane Bozarth and her husband live in Durham, NC, USA.
You have an M.Ed. in Training & Development/Technology in Training and a doctorate in Adult Education. Were you always interested in this topic?
My first job ever, in high school, was as a guitar teacher in a music store. So I suppose, yes, I always was interested. By the way: I had been a classroom trainer in a hospital staff development department for several years before moving to another organization's HR office. I pursued graduate study because I felt it would help me better communicate and speak the language of business with my colleagues and stakeholders there.
You're very active on Twitter. How do you feel about the role social media has played in the development of online learning groups and communities?
Social media has taught us so much! I'm seeing people happily joining groups of their choosing, creating content, and uploading photos and other media. They are seeking out their own learning and figuring out how to find others they want to talk with. We are doing so much more than just "discussion board" work now. They think nothing of hopping into a live video event. It's really amazing to see how far we've come in just a few years. As for Twitter: I first fell in love with it when I realized that no matter the hour of the day I could always find someone there talking about something interesting that I may not have even realized I wanted to talk about.
You've written numerous books as well as your most recent Show Your Work: The Payoffs and How-Tos of Working Out Loud. What has been some positive feedback you've received?
I try to offer readers practical information from a real-world perspective. There are lots of examples of showing one's work here on Pinterest. I had more examples than I had pages to fill so started putting the overflow on a Pinterest board. As far as use cases go I have heard from a number of readers that the ideas from the book helped to inform onboarding experiences -- for instance, learning how to better document not just what an outgoing employee did (which is the usual approach) to finding out how that person got things done. This can be critical to the success of the next person filling the role.
You also write the monthly "Nuts and Bolts" column for Learning Solutions Magazine. Any recent highlights you'd care to share?
Because of my years working at a hospital for developmentally disabled adults I have an abiding interest in accessibility and assistive technologies. I try not to beat the drum too hard but every now and again offer up a piece on accessibility issues. A recent column focused on recognizing that our focus should be less on "compliance" and more on compassionate design -- not just accessibility for some, but user-friendliness for all. Being "Nuts and Bolts" I also try to offer material for those who have come to this business without formal education in it. I see them struggling with articulating rationale, or trying to conceptualize something they don't realize has been written about for years. So I try to direct them to research they should know about and authors they might enjoy, as I did with this piece called "Read Up!" Mostly, really, when approaching the column I try to put myself in the shoes of a newer practitioner, so columns can go anywhere to basics of design to how to get management's ear.
What is one prevalent myth that is perpetuated about online learning?
That catering to different learning styles matters. This plays out as designers throwing in decorative visual or auditory elements or interactions for the sake of clicking on something. It can actually harm learning.
Have you noticed any recent trends in online learning?
I am hearing a lot of chatter lately about microlearning and I'm still puzzling over how to best think about it. I am not about overcontrolling, but I think we need to do more than just throw a hundred disparate bits at the learners. The middle ground needs more discussion, in my view. Also, I think this is a very exciting time for video --particularly live video -- and look forward to seeing where that will go.
You are presenting a session at the upcoming LEAP Ahead Conference 2016. What are you most looking forward to for this event?
Well, last year during LEAP Ahead The Kimpton bought me a pink ukulele so I'm interested to see if they'll be topping that.
This will be my third appearance at LEAP Ahead. I love the small audience size and the fact that I can see and talk with the same people over the course of a couple of days. I like that the Blue Volt audience is so open to and interested in topics not necessarily tightly related product information. I am thrilled that so many of my friends will be joining me there and believe attendees will benefit from hearing from so many of us who have a truly collegial attitude and positive approach to our work and to each other. They'll be hearing from many of us who have spent, literally, years working out assorted thinking on a number of industry-related issues together.
And of course there are the Voodoo Donuts.
Thanks for your answers, Jane! Dr. Jane Bozarth will be presenting a session on "Designing for Learning Success" on Day 1 (June 22) of the LEAP Ahead Conference.
Check her out online here: