Challenge
Historically, in a distribution-based sales channel, it is difficult for a manufacturer to engage with their customer's customer. For Grundfos, that could include architects, engineers, contractors, installers, or facility managers. Not to mention the need to engage and train the most critical set of customers – Grundfos' distributors.

Before adopting BlueVolt, Grundfos used a meeting, event, and hospitality management platform to schedule live training and webinars. Annette Paysinger, Training Systems Manager for Grundfos US, simply "added the links to an HTML page and sent out links in an email." This was adequate to schedule events but insufficient to integrate into a digital marketing strategy where leads must be collected, categorized, and tracked. They needed a better solution to handle their scheduling and lead monitoring, which is where BlueVolt came in.

Solution
For Grundfos, lead generation is about establishing a position of industry leadership by educating users through high-value content. BlueVolt's reporting capabilities and API features, along with Microsoft Power BI, enabled Grundfos to understand their audience in depth, turning high-value training into leads that translated into incremental pumping solution sales.

To implement the solution, Paysinger and the digital marketing team used social media and marketing automation to attract users into the digital ecosystem. Then the training offerings, which are built into the channel focused learning solution from BlueVolt, are leveraged as an essential call to action for users.


In Grundfos Marketing, the customer journey begins with a campaign that offers training. Online learning is just a piece of the puzzle, and the training platform is just a piece of the process. Training is usually offered in the form of a webinar. Taking advantage of the power of BlueVolt to manage instructor-led training (ILT) as well as eLearning courses, training courses are scheduled and managed through the platform. The registration process involves creating an account and using BlueVolt's custom fields to collect demographic information, like job role, user interests, etc.
Below includes an illustrated view of how BlueVolt's solution supported the customer's journey for Grundfos: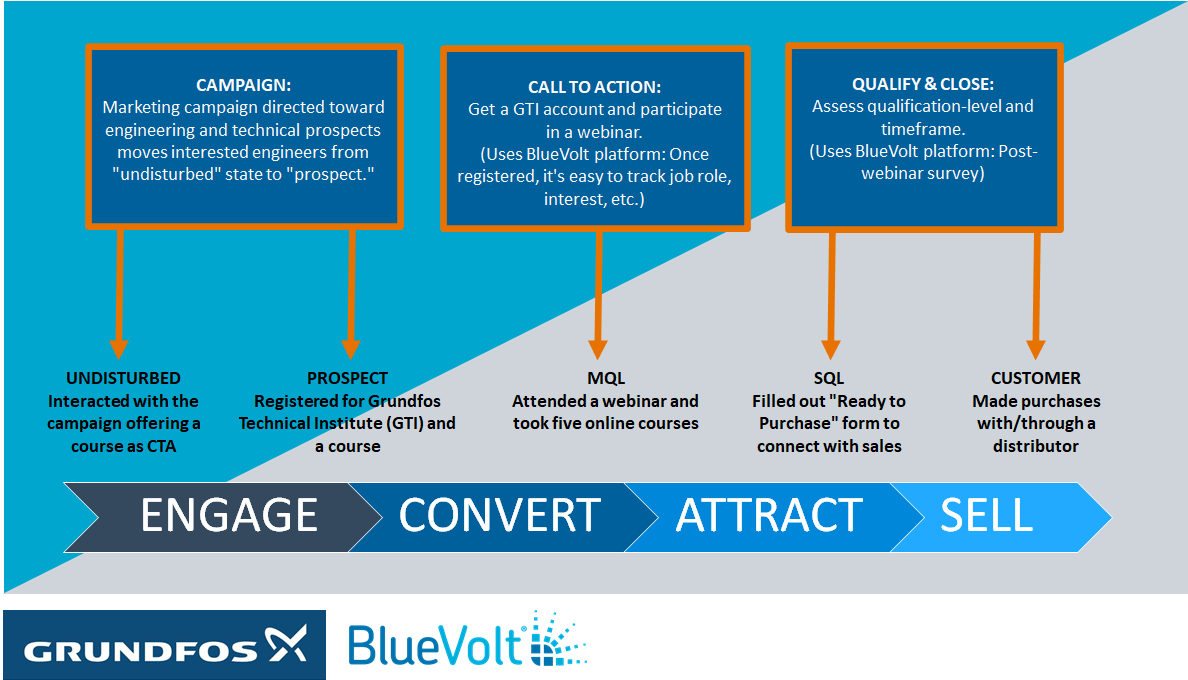 As seen here, qualified leads come from quality technical training. That's what BlueVolt delivers for Grundfos, and that fact is clear when you look at the ten most active courses on Grundfos Technical Institute:
History and Use of Centrifugal Pumps
Centrifugal Pump Theory
How to Read a Pump Curve
Bladder Tanks and Booster Systems
Pump Hydraulics
Pump System Curves and Control Curves
Power Quality and Pumps…Is your power killing your pumps?
Pump Selection Basics
Parallel Pump Control
Water Utilities and Regulations for Drinking Water for Pump Applications
These courses aren't just about Grundfos products. They are about maximizing the technical competency of everyone in the fluid-handling industry.


From viewing the success of their training courses, Grundfos can seamlessly transition from training statistics to marketing metrics. BlueVolt's integrated reporting and API capabilities simplify analytics analysis. A marketing qualified lead (MQL), for instance, can be identified through webinar attendance and online course completions. Post-webinar and end-of-course surveys help to turn those leads into sales qualified leads (SQLs), which are handed off to distribution and Grundfos sales teams in the appropriate region for follow up. The resulting sales can be traced back to the training that initiated the process.


Grundfos teams can also use the BlueVolt analytics feature to verify more information about their leads. For instance, a survey of their data revealed the following information about those completing the courses: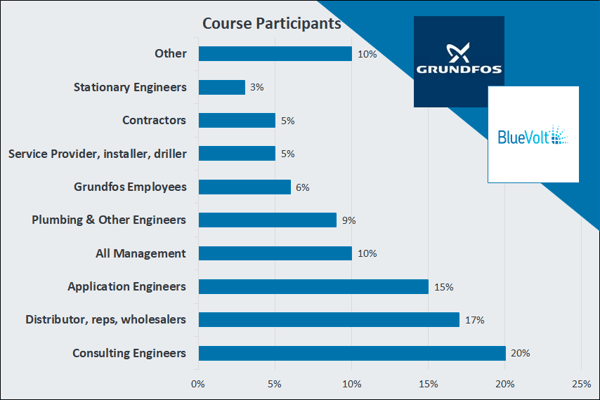 This chart provides the team with real-time data to prove that 44% of course takers are all the types of engineer decision-makers (consulting, application, plumbing & other) that Grundfos wants to reach, train and convert into customers.
Result
Since Grundfos uses training to specifically target early-phase decision-makers and leads, their partnership with BlueVolt helps them to increase their reach and target these key customers. After all, major buying decisions are not left to installers, technicians, and counter-salespeople. Instead commercial fluid-handling product choices are often made in the architecture, design, and engineering phases of a project, which occur as part of the project concept development phase. Through their relationship with BlueVolt, Grundfos is better positioned to reach their core customers and promote their high-end training courses as part of their training and marketing strategy.
---
About Grundfos
Grundfos Pumps was founded in 1945 in the basement of Poul Due Jensen's home in Bjerringbro, Denmark. In the ensuing 7 decades, they have become a global leader in energy-efficient pump solutions and an innovative fluid-handling technology company. Grundfos has a worldwide presence with sales entities in over 50 countries. They have even greater geographic reach through a network of distributors and dealers around the globe. Today, Grundfos employs about 19,000 people.
About BlueVolt
Founded in 2003 and headquartered in Portland, OR, BlueVolt is a pioneer in the eLearning industry. BlueVolt's solutions help a wide range of organizations increase sales, build brand awareness and enhance employee knowledge. Along with its learning management system and channel learning and readiness (CLR) SaaS platform, the company offers a range of client-focused services, including course and curriculum development, strategic support, business intelligence, and unique channel-training innovations.