In the last ten years, I've worked almost exclusively with organizations that were just getting started with eLearning.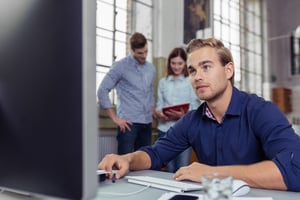 Some of the people in these training organizations were sheepish that they were so "behind the curve", while others were confident they had done the right thing by waiting to see if eLearning outlived the "fad" stage. All of them learned a lot in their first few years of delivering technology-based learning and performance support experiences.


Here are three lessons I learned with them:

Lesson Learned #1: It Pays to Know Your Audience
Even in the short time I've been at Nike, I've learned a great deal about learning and performance from our history and philosophy of focusing on the needs of the athlete.

Bill Bowerman, the legendary track and field coach and one of Nike's founders, had a special knack for getting to know his athletes and customizing training regimens around their needs. It's a philosophy that Nike has continued through designing products based on the needs of premiere athletes, and then further into digital services for consumers. This history is at the heart of one of our 11 maxims, "The consumer decides."

How does this apply to learning and performance? Here are just a few things you can find out about your learners that could have a big impact on the kind of learning experience you design:
What motivates them
How much information they need
What depth of experience they need
In what environment and context they're accessing the learning experience
What technology they are using to access the learning experience
Any one of these could make a major impact on what kind of solution you create.
Lesson Learned #2: "eLearning" Can Mean So Many Things
The corporate learning field tends to have some dominant ideas of what learning looks like, but that doesn't mean those are the best solutions for your company's problems. A learning experience can be guided by an instructor – or accessed on one's own. It can be exploratory and self-driven. It can be highly interactive. It can be straight presentation of information. It can facilitate collaboration between peers. It can invite personal reflection. It can be searchable. It can be shareable. It can be mashable. It can be crowdsourced.
Sound like a tall order for your team? Well, here's the good news…
Lesson Learned #3: You Can Do More Than You Think You Can with Limited Resources
Authoring tools, learning management systems, and custom development can carry hefty price tags. The impact of effective learning experiences makes them worth the investment, but all the same, you might be surprised by what you can accomplish on a shoestring. At BlueVolt's LEAP Ahead eLearning Conference, I will be talking about what you can get by without and what you can't… and how to stretch your resources for maximum impact.
I hope to see you there!
Judy Unrein makes stuff that helps people learn. She is a senior instructional designer for NIKE, Inc. and a frequent speaker and writer. She blogs about learning design and technology at http://onehundredfortywords.com and tweets @jkunrein.