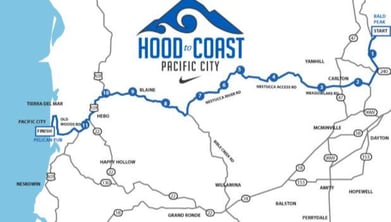 This year, I signed BlueVolt up for Hood-to-Coast, the mother of all relays — 200 miles from Mount Hood to Seaside, OR!

Then I asked my team members and our customers to run with me in the race.

We had a few runners eager to join, but most people said the same thing:

"I'm not a runner!"

I'm here to tell you that anyone can be a runner!

Whether you're joining our Hood-to-Coast relay team, participating in the virtual 5K for LEAP Ahead 2021, or just want to start a new fitness routine — with this plan, you can meet your goals and get to the finish line. No previous running experience required.
---
Don't Get Intimidated by the Couch-to-Coast Running Plan

Can't run for long? That's ok.

This plan aims to get you on your feet, build up your stamina, and prepare you to run.

Keep these essential points in mind:
Start where you are! Jumping into a plan that is beyond your ability will be both discouraging and exhausting. Accept where you are and accomplish what you can. If you start with walking, that's totally fine.

Do a walk/run mix. I tell people to pick some landmarks to use as motivation points. For example: Walk to the first mailbox, then run to the next. Repeat. Try to do this for a mile. Adjust as needed to fit your skill level.

INSIDER TIP: When you are ready to add more running to the mix, add it at the END of your workout, not the beginning! Then repeat the effort the next time you go out.

Make working out part of your routine. As adults, if we don't schedule it, it won't happen. Working out is the same way. Sure, life happens, and you will have to move workouts around. That said, if you start your week with a planned routine, you will be more likely to fit working out into your schedule.

How to Follow this Running Plan

If prepping for Hood-to-Coast, start this 15-week plan on May 9 to complete it by the week of the race on August 27-28.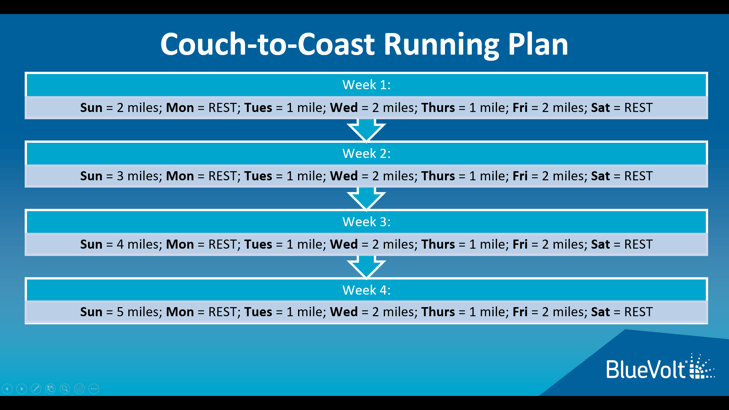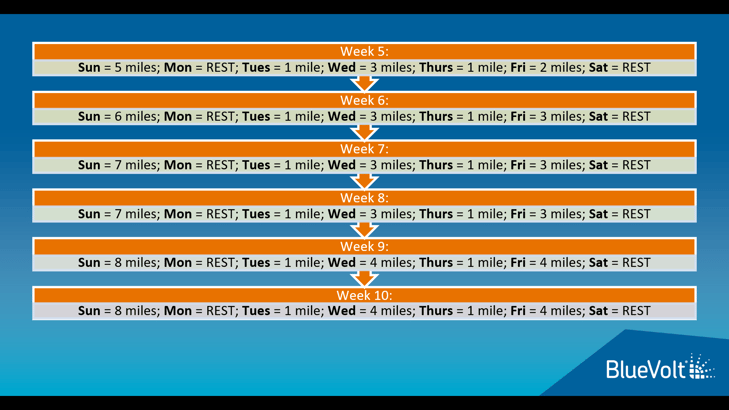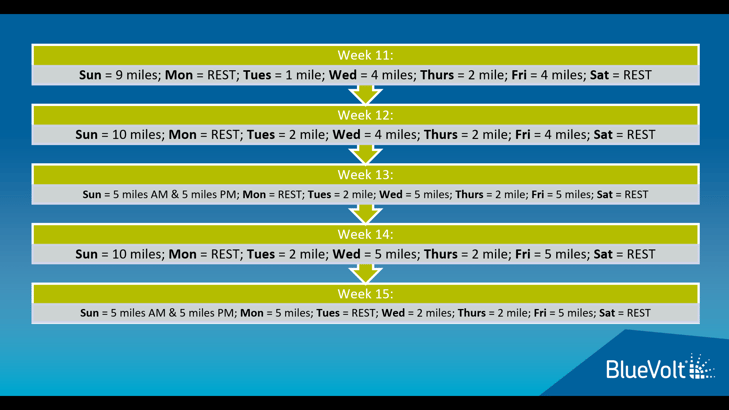 As a best practice, pick a designated day for your long run and stick to that routine as best you can. In the plan, the long run day is Sunday. Avoid back-to-back long runs, as it leads to burnout or injury.

Worried about measuring a mile? You don't need any fancy gear. If you don't have a GPS app on your phone to calculate the mileage, go old school and drive your route in a car to measure the distance.

Intimidated by the mileage numbers? Then don't run by the miles. Running for time is totally acceptable. For instance, if you have a two-mile run for your long run, substitute 25 minutes of activity. This is called "time on your feet," which is how many professional runners will train.

Want to Know More about BlueVolt's Hood-To-Coast 2021 Team?

This blog is the first of many that will highlight our Hood-to-Coast efforts.

Everyone on our team will be running to raise money for BlueVolt Cares charities, including organizations that strive to help disenfranchised communities here in the Portland Metro area.

Visit our dedicated Hood-to-Coast landing page, choose the option "I want to stay informed," and provide your info. This will guarantee that you know everything we are doing for Hood-to-Coast.

Staying informed also makes it easier for you to donate to our charities and support the team!

By the way, if you are a BlueVolt team member or customer who wants to volunteer as one of our 12 runners, we still have a limited number of slots available. Just go to the link above and click the "I want to run" option.
---

Janet Rosenthal, Director of Sales and Customer Success at BlueVolt, is a seasoned runner who has completed hundreds of marathons, over 100 ultras, has finished the Boston Marathon several times, and she has participated in Hood to Coast before. She is also an experienced running coach and a Level I USATF distance coach.
Visit these links to LEARN MORE about BlueVolt Cares, LEAP Ahead 2021, and Hood-to-Coast 2021.