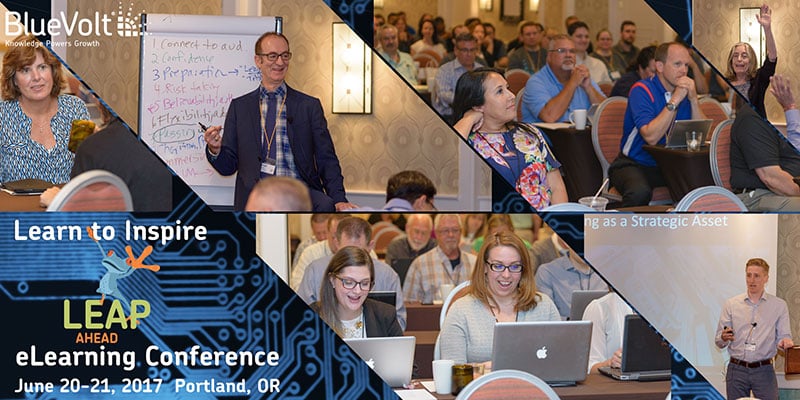 Many LEAP attendees have expressed the desire to sit down with a subject matter expert and get hands-on training in the BlueVolt LMS, reporting, learning & development strategy, course creation and more training-related subjects.
We hear you loud and clear! We have put together a value-add addition to our 2017 LEAP Ahead: Learn to Inspire Conference : a FREE Day 3 of Workshops where attendees receive that critical hands-on training. You'll leave the Workshops with practical, ready-to-apply knowledge to amplify your organizational or channel training initiatives.
Day 3: Workshops is only available to those who have registered for the 2-day Conference (not available with a single-day ticket).
Choose up to 3 workshops from the following:
University Interface (UI) Workshop
- Use the new Draft Category workflow to restructure your current course catalog
- Apply different block designs to support the intended audience of your various categories
- Work on setting up a new Home page and theme for your university using the new Sage UI
Reporting & Analytics Workshop
- Explore various built in reports available in your university
- Create scheduled reports that can also be sent automatically to various email addresses
- Take a look at how your university data looks with our advanced analytics product
- Quickstart your new University Implementation and set up your group and catalog structure
- Work though various university setting options available for your university
- Customize default design and email templates
- Create a ""Course Canvas"" outline (defines goals, audience, definition and style of for course development)
- Create a course asset plan for an custom course
- Create a standard course survey for courses in your university
Achieving Outcomes Workshop
- Create an incentive program
- Syndicate your courses to your partners
- Create a course awareness program
Learning & Development Strategy Workshop
- Don't know what you don't know about channel or organizational elearning?
- Want to build a culture of learning to increase sales, brand awareness or enhance employee productivity?
- Spend some time with our L & D strategists to put an actionable plan together

And purchase your 2-day conference ticket by March 31, 2017 and receive $50 off the regular price!