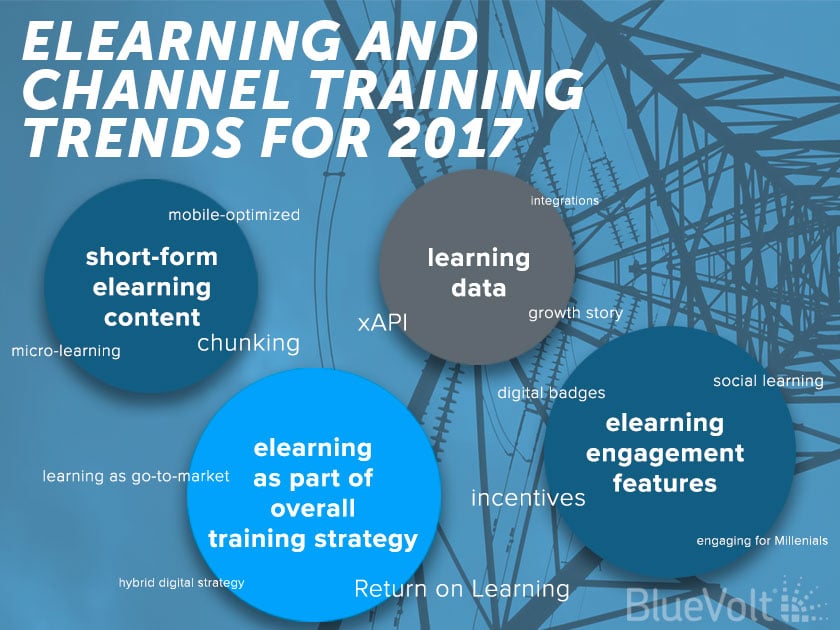 Welcome 2017 - and welcome new trends in elearning! We are seeing the elearning industry shift (as the L&D industry changes as a whole over time) and our content creators, strategists, and brand partners are working to keep pace with the industry as learner demand changes. Here are trends for 2017 that we are noticing:
eLearning and Channel Training Trends for 2017
eLearning Content in Shorter Formats Are Better for the Learners
"In 2017, we are seeing a shift towards elearning content that is split up into micro-learning pieces. Companies are also trying to make content more engaging for their learners."
-Chris Kiggins, Head of Creative Development
"We are fielding requests for shorter, more linear courses that are precise and to-the-point. There is also a trend towards stronger branding and clearer messaging in course content."
-Tom Rangner, Project Coordinator, Creative Development
"There has been a trend with Clients taking their longer courses and chunking them up into a features-focused product fact sheet showcasing the basics about a product that one would need to know in order to sell it. Also, Clients are integrating a lot more video content, like recycling existing marketing pieces into elearning content."
-Madison Wellington, Graphic Designer
"There is a movement away from very lengthy courses and to make courses shorter and more focused. Some of our customers are also saying that they want to make their courses attractive to a younger audience like Millenials."
-Alexis Pozos, Customer Success Advocate
"Clients are creating courses split into modules, where each module is really focused on one key feature of a product. And, ideally, courses that one can take on a cell phone."
-Amanda Bolsinger-Jones, Customer Success Advocate
eLearning Features To Increase Engagement
"Incentives continue to be increasingly popular amongst our customers, centered on course completions. Elearning courses are becoming more interactive with features like knowledge checks and drag-and-drop for learners. We find that our manufacturer Clients achieve the most successful outcomes with their distributor partners when they attach interactive course with incentives, plus conforming to best-practices course length."
-John Killelea, Regional Sales Director
"One of the biggest trends I'm noticing now is the request for social learning features like leaderboards, chat forums and the ability for learners to upload content for their managers to review. Digital badges are also getting more attention as organizations are realizing they can use them to build out programs that relate to specific competencies, and ultimately create a community of learners. All of these trends point to the desire to make learning fun and engaging, even beyond the courseware."
-Kelley Shirazi, Director of Sales
"There has also been a trend where elearning is becoming intentional: companies are listening to their learners, and trying to create courses based on best education practices."
-Amanda Bolsinger-Jones, Customer Success Advocate
Better Business Intelligence and Data on Learning is Needed
"Something that we're discovering through conversations with our customers so far this year is the need for a higher level of integrations. Whether it's syncing user data through HR systems, analyzing learning data in business intelligence tools or even developing custom integrations with incentive programs, our customers are wanting to leverage multiple systems to achieve learning success. "
-Brandon Maskew, Customer Success Manager
"A trend I'm seeing is the improvement the learning experience for an individual. Companies are exploring smarter ways to collect learning data to create a growth story for an individual and to the business. xAPI and LMS company's will define the difference between the usages of these data to create a smarter learning path and training content to support the business needs."
-Susie So, Art Director
eLearning is Part of a Well-Thought-Out Training Strategy
"Companies are realizing that everything needs to start with developing an integrated hybrid digital strategy around learning. Being thoughtful about how to transform their content assets into training that's effective. Companies now know that a 45-minute video of a talking head, or a PowerPoint presentation, just doesn't work...so they're creating compelling, well-produced, interactive videos in order to create effective outcomes."
-Gary Brashear, VP of Sales and Customer Success
"Companies are showing a desire to understand Return on Learning, being able to marry up learning behaviors to the results they're creating, whether it be an increase in sales, an increase in brand awareness, or an increase in productivity."
-Keith Gerr, Director of Marketing
"The idea of embracing elearning as part of an overall learning strategy is emerging as a significant shift in this industry. Companies are taking a more holistic approach to their sales and marketing strategies to incorporate training as part of their go-to-market, which is a new way of thinking for some. Those that fully adopt it and create a culture of learning from the top down in a company are seeing the results reflected both in their corporate culture, and in their sales bottom line."
-Carly J. Cais, Marketing Manager
---
As learner demographics change and companies grow, the needs elearning has to satisfy evolve. The question is, how does your training strategy incorporate both a hands-on and an elearning solution? Are your courses broken down into micro-learning segments or chunked into easily-digestible content? Is your content mobile-friendly and engaging for the learner? And what reporting capabilities do you have - or what do you need in order to tell the overall story about your training efforts?
In 2017 it's time to start incorporating these concerns into your strategy, content, and training decisions - and see the benefits your company can experience once you implement a new approach.