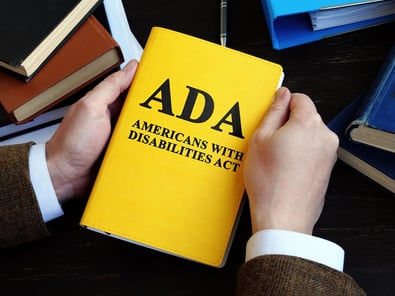 The ADA, or Americans with Disabilities Act, was enacted in 1990, long before the internet was commonly used. Sadly, that's also why it's so hard to find any requirements defining how to make your website accessible to certain demographics.


Canada and many European countries have similar accessibility requirements. For countries with these laws in place, creating an accessible website for users with disabilities has become mandatory.


So where do we look for help?

The Web Content Accessibility Guidelines (WCAG), which were developed by the Web Accessibility Initiative of the World Wide Web Consortium (W3C), comes to the rescue as the defacto standard for organizations to ensure compliance. W3C is the main international standards organization for the World Wide Web. It was founded in 1994 and is currently led by Tim Berners-Lee, the inventor of the web.
Who follows the WCAG?
Since the ADA doesn't set any specific website accessibility requirements, most organizations follow the WCAG. This is not a legal prescription, but courts often refer to it as the standard guidelines. Updated and reorganized Section 508 Standards Guidelines harmonize web accessibility requirements with WCAG 2.0.
What 2.0 Means
There are three versions of the accessibility guidelines: 1.0, 2.0, and 2.1. Although the latest standard is 2.1, most courts still use 2.0, which was updated in 2008 as the reference because the 2017 refresh of Section 508 requires federal agencies to adopt WCAG 2.0 standards for web accessibility.

The 3 Levels of Conformance in this Accessibility Guideline
A meets the minimum level of accessibility.
AA meets the target level and agrees with legal requirements.

AAA exceeds accessibility requirements.
A Simplified Version of ADA Accessibility Requirements
To understand the main ADA requirements, here is a simple list of the 4 main principles. It doesn't include all the information developed and published by W3C, but it's a good starting point for remediating your website. It might be hard to review all the points carefully, but it's doable and worth your time.
WGCAG 2.0 is a Good Starting Point
Business leaders should have a basic understanding of WCAG 2.0 to stay compliant, but there is also a newer version, WCAG 2.1, which was published in 2018.

So, what is the difference?


WCAG 2.1, which helps to meet ADA requirements, is basically an upgrade of the 2.0 version. It includes 17 additional success criteria that address mobile accessibility, people with low-vision, and those with cognitive and learning disabilities. Nothing from the previous version was removed, so WCAG 2.0 is still a good start.


If you have considered the WCAG 2.0 requirements and remediated your website, the good news is you can keep developing your website with a 2.1 version.
A Free ADA Checker is Available
BlueVolt, as a platform, supports WCAG 2.0, but it is up to you as the Administrator of your BlueVolt-powered University to ensure your content is compliant. A free ADA checker can be found at https://adascan.app/.
For more information, please feel free to contact your Customer Success Manager.


Disclaimer: BlueVolt has no relationship with the organizations mentioned in the article. The tool provided to readers of this article is a free tool found publicly online and BlueVolt provides no warranties of its effectiveness. BlueVolt provides no recommendation of these organization services nor promotes them as a potential provider to you. It is the sole responsibility of the reader and customer to ensure they are ADA-compliant based on their own assessment.