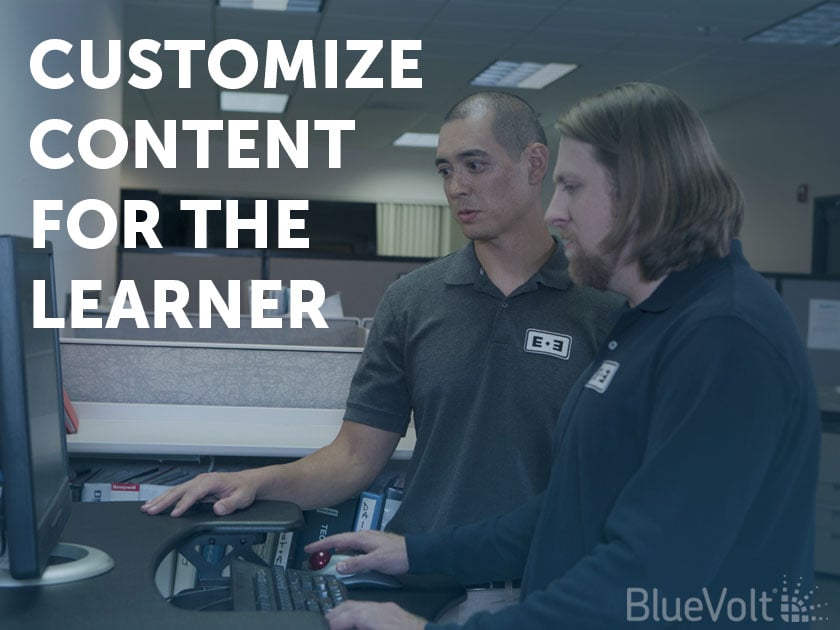 When your business puts a learning management system to work teaching users, the benefits you see will range from moderate to significant—but with custom elearning content, you can shift your expectations higher. By working to customize the elearning experience for your users, or even for segments or individuals in your user base, you enhance the efficacy and efficiency of your elearning capabilities. In no time at all, such gains impact your bottom line. So, how do you begin such an undertaking?
Evaluate your learners' needs
Custom elearning development should begin by evaluating the ways in which your learners best learn the content presented to them. Pay attention to what they know, what they don't, and how they best absorb and retain new information.
There are three primary learner categories: auditory, visual and kinesthetic. It's essential to incorporate a variety of content and learning techniques within your elearning platform to ensure the education process is fluid and progressive for all members of your channels.
Auditory learners hear
Rather than picking up a novel, some people prefer listening to books on tape. It's important to keep this in mind when developing various elearning content. Great auditory content for these types of learners includes:
Animated videos with audio
Recorded webinars
Recorded, interactive question-and-answer sessions
You can even turn existing text documents into verbal training seminars that channel members can access and listen to on the go and at their own pace. Make sure to mix things up and get creative when it comes to engaging your auditory learners.
Visual learners see
The visual learners on your team are the ones who often take copious notes rather than get heavily involved in discussions. If your elearning content is structured in a question-and-answer format, these individuals get inspired by visually themed questions such as the following:
How do you view this situation?
What obstacles do you see stopping you?
Can you make out what this graph is showing you?
Approximately 65 percent of the population learns visually, according to estimates. There has likely never been a better time to capture the attention and engagement of visual learners, so it's importance to utilize this method of elearning to ensure you are maximizing your users' potential and your company's ROI.
Kinesthetic and tactile learners touch
A kinesthetic type of learner prefers to touch and move his or her body in order to learn new concepts. The best way to apply this to elearning is to incorporate application assignments. These can include tasking the learner to visit on-site locations in order to get more familiar with particular sales environments or having him or her complete and submit a series of micro-projects. The important thing to keep in mind when training your kinesthetic-minded users is that you need to get them "doing" whatever task they need to master.
Further understanding
Once you understand the needs, weaknesses, and strengths of your users, you can work on plans to emphasize the right lessons for the right learners and then pair these with the appropriate training incentives. It helps immensely to do some reading on modern teaching techniques, strategies and tactics if you're developing your own elearning content. If this isn't an efficient use of your business' time or you doubt your ability to produce effective material, ask for custom elearning development help from your LMS provider. The benefits of leveraging expert assistance from a team familiar with your software pay dividends.
Customizing for consistency
Even if you're satisfied with your existing off-the-shelf elearning content, customized elearning development can make the language, terminology and examples presented to your learners match those that participants will encounter after their training. If you're training users to work in a certain environment, making sure they don't have to relearn the details of operations because of a linguistic mismatch can be a major boon to long-term efficiency and efficacy. Industry jargon, in-house terminology, matching other training and regional variations all deserve consideration for customization.
Specializing scenarios
Businesses and learning institutions can also leverage custom elearning development for highly precise lessons. One might develop a course intended to shape and refine a high-level individual into a better candidate for a particular role, or to prepare a team for a difficult scenario. Instead of immersing learners in generic information and hoping they learn the correct lessons, this type of custom elearning content maximizes efficiency in training and facilitates superior outcomes in the real world.
Creating advanced content
When the material available for your learners runs dry, custom elearning development allows you to take participants' education to a higher level, drawing content from their real world. If you develop custom content, your learners need never fall behind the curve due to un-relatable lessons and materials.
BlueVolt can help produce custom content for your eLearning platform. Contact us for a quote.