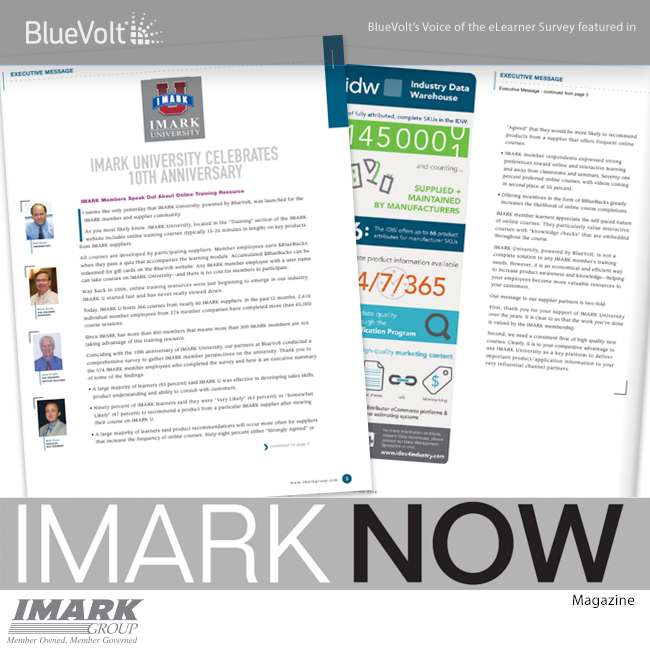 We are thrilled to see that one of the largest Associations we work with, IMARK Group, has featured data from a recent survey BlueVolt conducted, in the April 2016 issue of their IMARK NOW! Magazine.
Excerpt:
Executive Message: IMARK University Celebrates 10th Anniversary

IMARK Members Speak Out About Online Training Resource

It seems like only yesterday that IMARK University, powered by Blue Volt, was launched for the IMARK member and supplier community.

As you most likely know, IMARK University, located in the "Training" section of the IMARK website consists of online training courses (typically 15-20 minutes in length) on key products from IMARK suppliers.

All courses are developed by participating suppliers. Member employees earn $BlueBucks when they pass a quiz that accompanies the learning module. Accumulated $BlueBucks can be redeemed for gift cards on the BlueVolt website. Any IMARK member employee with a user name can take courses on IMARK University—and there is no cost for members to participate.

Way back in 2006, online training resources were just beginning to emerge in our industry. IMARK U started fast and has never really slowed down.

Today, IMARK U hosts 366 courses from nearly 60 IMARK suppliers. In the last 12 months, 2,616 individual member employees from 274 member companies have completed more than 65,000 course sessions.

Since IMARK has more than 850 members, that means more than 500 IMARK members are not taking advantage of this training resource.

Coinciding with the 10th anniversary of IMARK University, our partners at BlueVolt conducted a comprehensive survey to gather IMARK member perspectives on the university. Thanks to the 574 IMARK member employees who completed the survey. Here is an executive summary of some of the findings:

• A large majority of learners (93 percent) said IMARK U was effective in developing sales skills, product understanding, and ability to consult with customers.

• Ninety percent of IMARK learners said they were "Very Likely" (43 percent) or "Somewhat Likely" (47 percent) to recommend a product from a particular IMARK supplier after viewing their course on IMARK U.

• A large majority of learners said product recommendations will occur more often for suppliers that increase the frequency of online courses. Sixty-eight percent either strongly agreed or agreed that they would be more likely to recommend products from a supplier that offers frequent online courses.

• IMARK member respondents expressed strong preferences toward online and interactive learning over classrooms and seminars. Seventy-one percent preferred online courses with videos coming in second place at 55 percent.

• Offering incentives in the form of $BlueBucks greatly increases the likelihood of IMARK member learners appreciate the self-paced nature of online courses. They particularly value interactive courses with "knowledge checks" that are embedded throughout the course.

IMARK University, powered by BlueVolt, is not a complete solution to any IMARK member's training needs. However, it is an economical and efficient way to increase product awareness and knowledge—helping your employees become more valuable resources to your customers.

Our message to our supplier partners is two-fold:

First, thank you for your support of IMARK University over the years. It is clear to us that the work you've done is valued by the IMARK membership.

Second, we need a consistent flow of high quality new courses. Clearly, it is to your competitive advantage to use IMARK University as a key platform to deliver important product/application information to your very influential channel partners.
Thank you, IMARK Group - for your valuable partnership and making the IMARK U Powered by BlueVolt platform available to your members for their training needs!