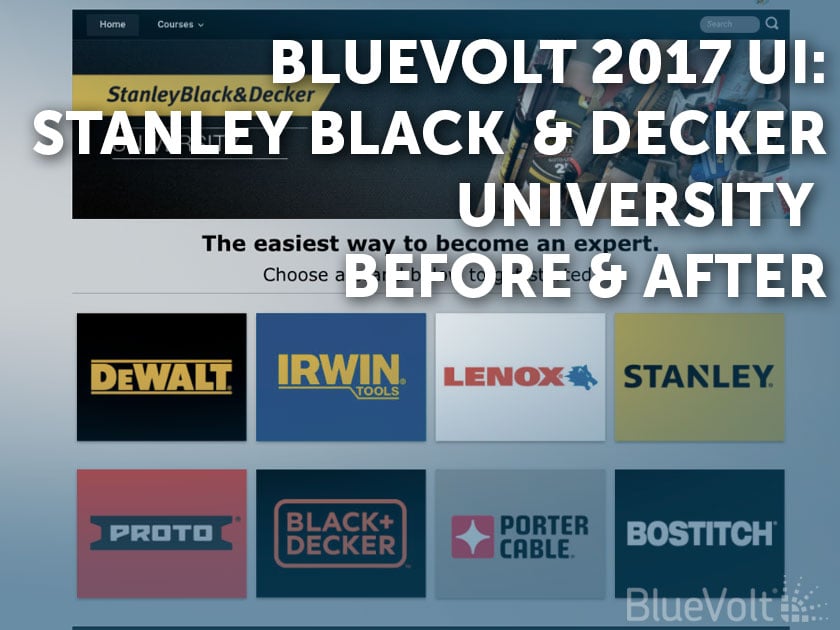 This year BlueVolt launched a new UI that adds value and increases usability for learners and flexibility for administrators.
Enter the new BlueVolt 2017 UI: customizable, adaptive/responsive design for a consistent experience across a variety of devices, and the ability for a brand to create message consistency for the learner throughout the interface.
Here's what's new for learners:
Advanced search filters on the search results page as well as search filters within a category page
Ability to configure a variety of layouts for individual categories
Improved performance
More intuitive design and placement of the user profile
Redesigned, single tab view of a course page
Improved training calendar views
So what does all that look like in action?
Stanley Black & Decker took advantage of the new flexible BlueVolt 2017 UI immediately - and rebuilt their University after a single 90-minute UI Workshop session at the recent LEAP Ahead eLearning Conference (yet another reason to attend LEAP Ahead!).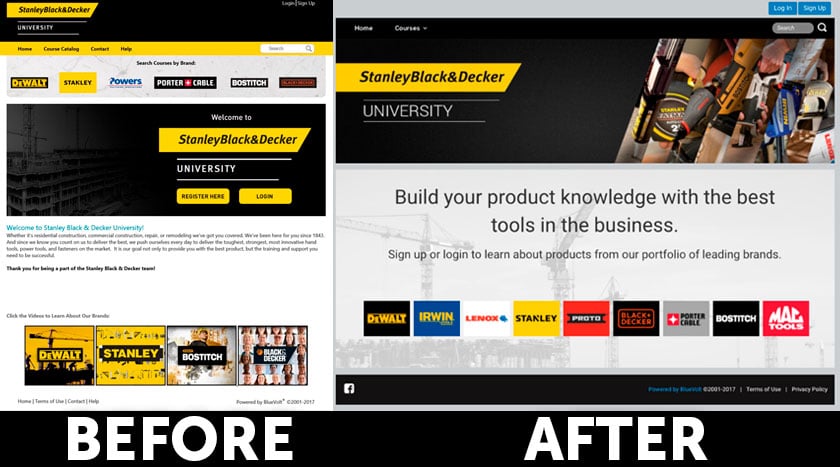 The Stanley Black & Decker University Before & After (logged out version)
Stanley Black & Decker wanted a branded experience that would showcase the SBD family of brands from the moment the learner lands on the SBD University homepage.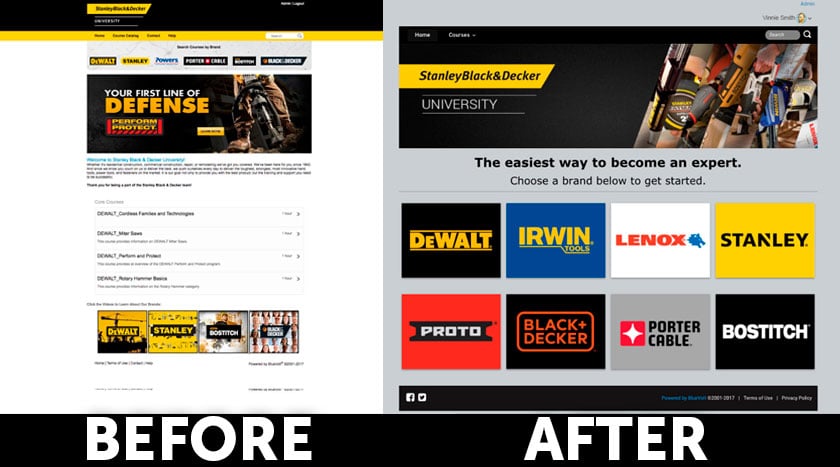 The Stanley Black & Decker University Before & After (logged in version)
Once logged in, the goal was for the learner to be visually immersed in the Stanley Black & Decker brands and choose their path through the SBD brand family. SBD brand logos present a clear, recognizable path to the training courses available (versus the learner having to scroll through text lists of courses).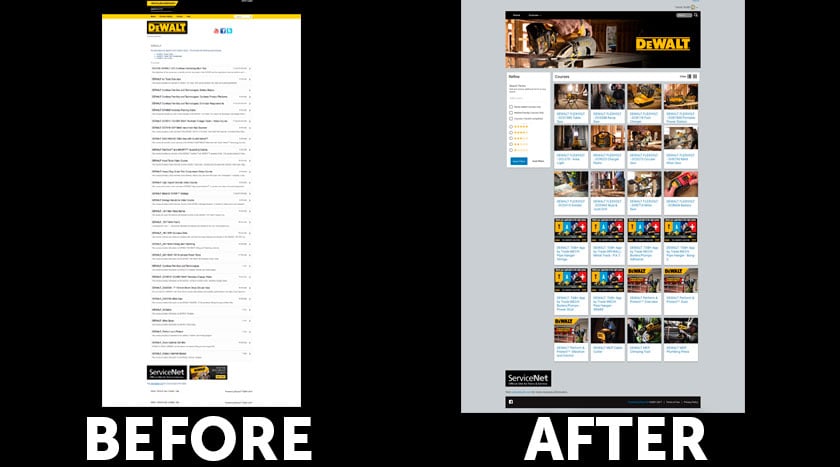 The DeWalt Category Page Before & After
Stanley Black & Decker wanted to make each brand a destination in the catalog that could stand on its own and remain true to the brand messaging. The new customization features for categories supports multiple design and configuration options. By using photographs that show the brand's products in action, each category page becomes a visual, branded experience for the learner - and solidifies the brand family's message throughout. This functionality makes it much easier to update courses that coordinate with brand initiatives, saving the administrator time and effort in maintaining the brand family content. Content Blocks enable administrators to easily designate permissions which allows for group-specific experiences throughout the content.
With the BlueVolt 2017 UI it is now possible to sort and filter searches for courses, and to find relevant courses quickly and easily. Learners can also toggle between a text based list or a graphical view based on their preference for easier navigation through the interface. The redesigned visual interface is far more engaging for the learner than a simple text-based interface, and is reflective of current web design standards that we are all used to in our daily lives (ever seen Amazon.com?).
The new UI is now available to all users of the BlueVolt LMS platform. Before, some designs could be accomplished by intense customization by someone highly technical (or the BlueVolt developers). Now they are simple and available to everyone. With a modern look and consistent experience for learners on any device (PC, tablet, or phone), the BlueVolt 2017 UI offers a highly flexible platform that supports the complex business needs of our customers.