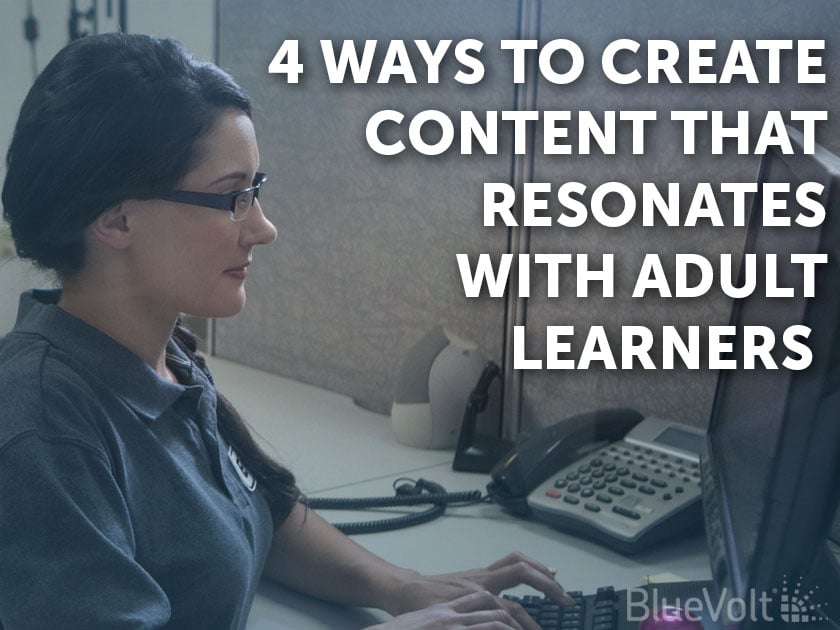 4 Ways to Create Content that Resonates with Adult Learners
Get to the point
Convey why they are learning, not what they are learning
Storytelling and visuals
Respect
Get to the Point to Be Relevant
As discussed in 3 Ways the Adult Learner is Different, adult learners are pressed for time and attention. The best way to combat this is to get to the point with what needs to be learned. "One of the biggest problems learners have today is that they have access to too much information," says Jeanie Sullivan, BlueVolt Instructional Designer and Learning Strategist. "We've really seen the industry transition from creating training programs that allow people to have the information needed, to creating training programs that point people directly to the specific information needed in order to do a job. While creating training, ask yourself: is this piece of information directly relevant and absolutely necessary to the task you want the learner to perform? If the information is not required either for context, or the action you want the learner to take... just leave it out."
BlueVolt Instructional Designer Alison Weinberg notes, "In your course, you should only be striving for 3 objectives max. Instead of having a lot of content, provide a lot of visuals, and do not have more than 1 minute of content per screen. Provide a progress bar: that way, your learner sees where they are and has the motivation to keep going through the course. And lastly, instead of doing one long, continuous course, give your learner the power to get exactly what they need with microcourses. Aim for a 5 - 15 minute course. Making your courses into a series is even better, as that means your learner doesn't have to watch every video or engage with every slide. They can just engage with the information that they need to know."
Convey Why, Not What
"The learning process of the past used to be to first, tell learners what you're going to tell them, then actually explain the concept, then tell them what you just told them," says Sullivan. "However, this doesn't work for the motivated adult learner. They'll quit your training program...because they don't see why the information they're now learning is important."
According to "Factors Influencing Adult Learners' Decision to Drop Out or Persist in Online Learning," adults need to understand the importance of what they are learning or they won't find the experience worth the time and effort it takes to actually complete the course. Ayla Lewis of Happy Brain Science reiterates: "Even more than the what is the why. Create a connection to the learning and create meaning. If you don't care about why you're learning what you're learning, it can make it hard or even impossible to learn. One thing we say to help people remember this is 'Give the why in to get buy in.' Start with the why and with developing meaning, and then people will be more willing to learn and be better at it along the way. Connecting with the meaning increases motivation."
Storytelling and Visuals are Necessary to Relate
Two things you should include are stories and visuals. By giving your learner a story or visual surrounding the skill you are teaching, you create material that learners will better remember and apply on the job. Sullivan notes, "A lot of times the challenge with online learning is that you're not actually in a classroom. You can't try out the action in the same way. But research shows that if I'm learning something new, if you tell me a story about a person I can relate to and who is in my same situation, who actually was able to master the skill, the learner will think 'if that person can do it then I can too.' This will significantly increase the likelihood of being able to complete the task that s/he learns on their own. If you're not telling the learner stories about other people who have accomplished a skill then they are missing out on the one thing that could inspire them to complete the course and then apply that knowledge on the job."
"Our brains have more processing power to process visuals over anything else," adds Lewis. "If you can't use visuals because it doesn't fit the content, use stories as models. You can use stories to trigger visuals in people's minds. Even if you have an abstract concept that you're teaching, using an example with real people in real life, the learner's brain will still supply the visual. It will help them connect to the knowledge and remember it easier."
Respect the Learner
"Adult learners are motivated, smart, and ready to learn," says Sullivan. "We need to honor that level of motivation and genuine curiosity by getting straight to the point, and acknowledge they are smart, capable, and are taking their time to learn about this product (when they could choose to be doing something else). Respect the knowledge they already have, their level of motivation, and their time."
Lewis seconds this idea, citing Barbara Glanz's work on adult learners: "Adults want to be respected. Trust your content, trust yourself, and respect your learner enough to let them know what is coming next and to give them access to the material coming up. Because if you don't, adult learners notice, and they can end up feeling disengaged or disrespected. They ultimately are not going to be able to learn or do a good job."
Great Content = Knowledge = Training Program Results
These practices are important not just for the sake of your learner, but for the sake of your business.
Sullivan summarizes: "With partner channel training, the most important aspect to remember is that people outside your organization do not have to take your courses. You have the opportunity to influence them, but on the whole, people are 'opting in' to take your courses. You really only have one chance to make a first impression. But you have a significant opportunity to foster brand awareness and loyalty. If you formalize your approach towards adult learners, your better positioned to achieve positive results."
---
Interested in understanding adult learners better and creating content that resonates with them? Download our ebook resource with information and tips for the training professional here.