Broan NuTone: Fast, High-Selling Product Launch
Highlights
Creative collaboration
Effective, efficient training
Faster sales, higher profit margins
Ongoing access to program content for those who missed the training event
Industry recognition: Recipient of the 2013 Brandon Hall Excellence Award in Sales and Marketing
Profile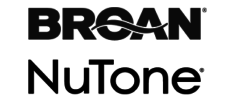 Broan-NuTone is North America's leading manufacturer and distributor of residential ventilation products, including range hoods, ventilation fans, heater/fan/light combinations, balanced ventilation systems, built-in heaters, attic ventilators and trash compactors.
The company emerged from the ambition and innovation of two young men in the midst of the Great Depression. Henry L. Broan designed and manufactured a quiet, efficient kitchen ventilation fan called the Motordor® in 1932. Four years later, J. Ralph Corbett developed a melodious door chime as an alternative to the harsh buzzers in use at the time. Each man started his own small company in the Midwest, and the two companies gradually grew into global enterprises, Broan Mfg. Co. Inc. and NuTone.
From the very beginning, customer service was at the heart of each company's mission. Broan was acquired by Nortek in 1981 and became the lead company of Nortek's Residential Building Products Group, called the Broan Group. When Nortek acquired NuTone in 1998, it was added to the Broan Group to form Broan-NuTone LLC.
Challenge
Launching a new product successfully requires critical timing. It means ensuring that when the product hits the market, the sales channel is familiar with the product, understands its advantages and is ready to sell it.
This was the challenge facing Broan-NuTone when, in response to more stringent residential building codes, the company developed its ULTRA line of ventilation fans. The best-in-class ULTRA represented a breakthrough in fan technology, providing cleaner air, better circulation and improved energy efficiency. Broan-NuTone needed to educate distributors across the country about technical specifications and installation details, and at the same the company wanted to generate engagement and excitement about the product to generate sales.
The company could have sent trainers to the distributors to conduct in-product demos and lunch-n-learns, but they wanted a more efficient, less expensive way to deliver the training, and they also wanted to reach as many people as possible.
Solution
Broan-NuTone turned to BlueVolt, their learning management system (LMS) provider, to create and deliver an online training program that would be informative and interactive, encourage audience participation, and ensure that participants could easily acquire and retain all relevant information.
The key to success was creative collaboration. Representatives from Broan-NuTone and a team of BlueVolt design and development experts worked closely together to identify key content and develop an approach that was both educational and stimulating. The BlueVolt team responded by creating a series of interactive webcasts that demonstrated the new product, highlighted its ground-breaking features and gave participants opportunities to ask questions in real time. Specific deliverables included:
A two-part (introduction and advanced) webcast that BlueVolt developed for Broan-NuTone's internal sales team, and delivered live on six different occasions.
A live webcast for distributors' counter sales personnel, which was also delivered twice, directly from Broan-NuTone's own online university. In addition, two buying groups viewed the webcast through their online universities with BlueVolt.
A Knowledge@Noon webcast that BlueVolt developed specifically for distributor members of a third buying group, delivered live twice through that customer's university.
Another webcast created specifically for the distributor members of a fourth buying group, delivered live twice in Broan-NuTone's online university.
Broan-NuTone augmented this effort by producing four complementary videos of its own demonstrating installation techniques and sharing testimonials. The company delivered these videos alongside the webcasts. Implementation of the entire training program was completed in a mere 60 days. The coordinated effort with BlueVolt allowed Broan-NuTone to train their distributor and sales network faster and more efficiently than ever before.
BlueVolt's LMS incorporates a built-in testing system to verify knowledge, so Broan-NuTone was able to confirm that its sales channel received and understood their message. While new product introduction in the building trades is typically accomplished through trade shows, advertising and sales calls—often taking months to accomplish—the ULTRA training program was delivered through 12 webcasts over nine days, effectively reaching more than 1,800 people. In a matter of weeks, the company had fully trained and tested more than 750 partner distributors.
Results
Training your sales channel before launching a new product can pay huge dividends. When the ULTRA hit the marketplace, customers were eager to buy and distributors were primed to sell the new units. For the first time in its history, Broan-NuTone commanded a sold-out position shortly after the launch.
Builders and contractors were using the ULTRA in spec homes for new and retrofit construction within two weeks of the rollout, much faster than ever before, and the accelerated sales cycle ultimately resulted in higher profits for the company. The benefits of the early training effort are ongoing: since the launch of the ULTRA training program, the recorded webcasts have been viewed more than 1,000 times, increasing the value and relevance of the content.
Both BlueVolt and Broan-NuTone were awarded the Brandon Hall 2013 Bronze Award for Excellence in Sales and Marketing in recognition of The ULTRA training program. The award, considered one of the most prestigious awards program in the learning and development industry, honors businesses that have successfully developed and deployed programs, strategies, modalities, processes, systems and tools that help businesses achieve measurable results.